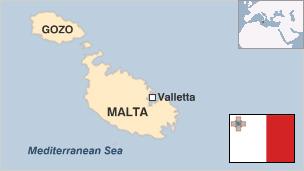 The Maltese archipelago has a history of colonial control spanning centuries.
Located south of the Italian island of Sicily between Europe and North Africa, it has been occupied by Phoenicians, Greeks, Romans, Arabs, the Knights of Malta, and latterly France and Britain.
Independence from Britain was achieved in 1964, after the Maltese people were awarded the George Cross for defending the crucial military bases there during World War Two.
Over the centuries, Malta's strategic position has fostered its development as an important trading post, and it remains a leading centre for container and freight transhipment.
Malta is a popular holiday destination, and tourism is the nation's main source of income.
Capital: Valletta
Area: 316 sq km
Population: 519,500 million
Languages: Maltese, English
Life expectancy: 80 years (men) 84 years (women)
George Vella was elected unopposed as Malta's tenth president in April 2019 in a parliamentary vote.
He is a veteran Labour Party politician, who has served variously as deputy prime minister and foreign minister.
The presidency is a largely symbolic post.
Prime Minister: Robert Abela
Robert Abela took over as prime minister and Labour Party leader in January 2020, when his predecessor Joseph Muscat resigned in the fallout from the murder of investigative journalist Daphne Caruana Galizia.
In March 2022, the ruling Labour party, led by Abela, won its third successive election.
Muscat had been credited with boosting Malta's economy, but criticised for failing to rein in the corruption that Ms Caruana Galizia was investigating when she was killed by a car bomb in 2017.
Muscat's handling of the murder inquiry caused widespread anger and he was accused of protecting allies implicated in the investigation, which he denies.
Many of Malta's newspapers and broadcasters have strong political affiliations. Dailies and weeklies appear in Maltese and English.
Maltese radio began in the mid-1930s, partly to counter Fascist propaganda broadcasts from Italy.
Some key dates in Malta's history:
1814 - Malta becomes a crown colony of the British Empire.
1939-1945 - Malta suffers heavy bombing by German and Italian air forces targeting Allied bases.
1974 - Malta becomes republic.
2004 - Joins the European Union.
2008 - Malta adopts the euro.
2020 - Labour Prime Minister Joseph Muscat quits in a political scandal over the murder of investigative journalist Daphne Caruana Galizia.
Related Internet Links
The BBC is not responsible for the content of external sites.