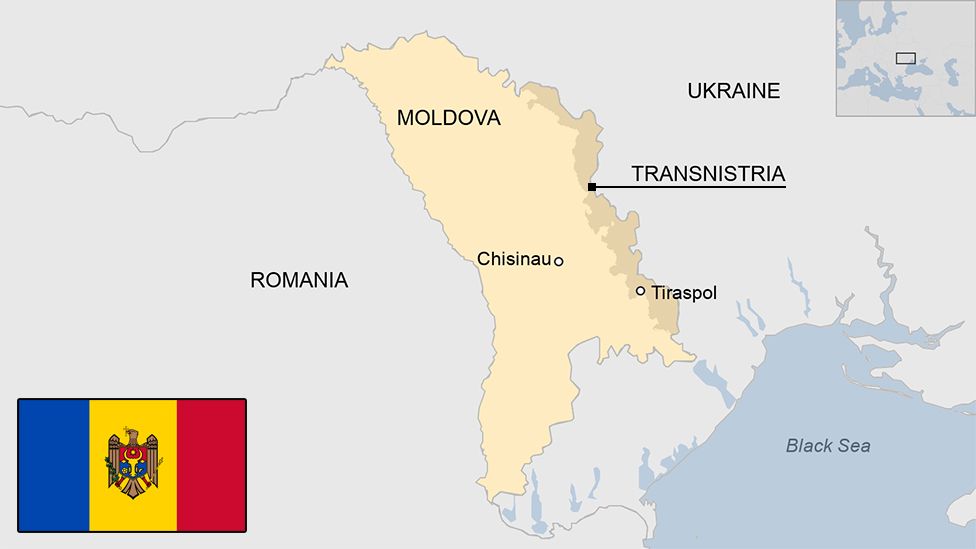 Sandwiched between Romania and Ukraine, Moldova emerged as an independent republic following the collapse of the Soviet Union in 1991.
Moldova is one of the poorest countries in Europe, with its economy relying heavily on agriculture.
Two-thirds of Moldovans are of Romanian descent, and the two countries share a common cultural heritage.
The industrialised territory to the east of the Dniester, generally known as Transnistria or the Dniester region, was formally an autonomous area within Ukraine before 1940, when the Soviet Union combined it with Bessarabia to form the Moldavian Soviet Socialist Republic.
This area is mainly inhabited by Russian- and Ukrainian-speakers. As people there became increasingly alarmed at the prospect of closer ties with Romania in the tumultuous twilight years of the Soviet Union, Transnistria unilaterally declared independence from Moldova in 1990.
Fierce fighting followed. Transnistria's independence has never been recognised and the region has existed in a state of limbo ever since.
REPUBLIC OF MOLDOVA: FACTS
Capital: Chisinau
Area: 33,851 sq km
Population: 2.6 million
Languages: Moldovan, plus Gagauz, Russian, Ukranian
Life expectancy: 67 years (men) 76 years (women)
President since November 2020. The former prime minister thwarted pro-Russian President Igor Dodon's attempt to win re-election.
A pro-European who failed to unseat Mr Dodon in 2016, Ms Sandu briefly headed a government in 2019, but it fell after dispute over the appointment of a prosecutor-general.
Prime Minister Natalia Gavrilita
Natalia Gavrilița is a Moldovan economist and politician. She was previously proposed as prime minister by President Sandu in February 2021, but was rejected by the PSRM-Șor parliamentary majority.
She was became prime minister in August 2021, following the July 2021 parliamentary election, which resulted in a landslide win for the pro-European Party of Action and Solidarity (PAS).
She previously served as finance minister from June 2019 to November 2019 in when Maia Sandu was prime minister.
The media have changed profoundly since the 2021 parliamentary election, which brought to power a pro-European government.
The government has made it easier for journalists to access to official information, contributing to Moldova's rise in the Reporters Without Borders media freedom ranking.
Since the Russian invasion of Ukraine in February 2022, parliament has effectively banned rebroadcasts of Russian TV news and political shows, and has set out punishments for supposed fake news.
Political battles between pro-Russia and pro-West camps are played out in the media.
1924 - Moldovan Autonomous Soviet Socialist Republic established east of the Dniester River within Ukraine.
1940 - Russia annexes Bessarabia from Romania, and combines it with most of the Moldovan Autonomous Soviet Socialist Republic to form Moldavian Soviet Socialist Republic.
1991 - Moldova declares independence. It joins the Commonwealth of Independent States, the successor to the Soviet Union.
2001 - The elections see the communists under Vladimir Voronin win just over 50% of the vote.
2014 - Moldova signs association agreement with the European Union, prompting Russia to impose import restrictions on the country's agricultural produce.
2015 - National Bank uncovers official inaction over embezzlement of $1bn - about 12.5% of annual GDP - from the banking system, prompting a major political crisis and credit crunch.
2019 June- Molodovan constitutional crisis, which followed the February parliamentary election, saw attempts to form a new government and saw the posts of prime minister and speaker of the Parliament, as well as the powers and duties of the President, being claimed by competing individuals.
2020 March - Temporary state of emergency declared due to outbreak of Covid-19.
2020 November - Pro-European opposition candidate Maia Sandu is elected Moldova's first women president, defeating the incumbent pro-Russian president Igor Dodon.
Related Internet Links
The BBC is not responsible for the content of external sites.