Italy's Northern League party targeted in fraud probe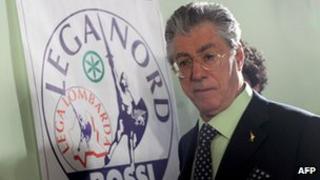 Prosecutors in Italy are investigating the right-wing Northern League party - formerly allied to ex-PM Silvio Berlusconi - for suspected fraud.
The Northern League's treasurer, Francesco Belsito, has resigned amid claims by prosecutors that he mishandled party funds.
The party opposes the technocratic government and has previously attacked corruption in the south of Italy.
Payments to relatives of party leader Umberto Bossi are now being probed.
A prosecutor has alleged that party money may have been wrongly used to cover expenses for members of Mr Bossi's family. His son, Renzo, however, has categorically denied this.
Northern League investments in Cyprus and Tanzania are also being examined for possible links to organised crime.
As the investigation escalated on Tuesday a major figure in the party, former Interior Minister Roberto Maroni, called on Mr Belsito to resign and voiced fears that the affair could harm the party in local elections in May.
Mr Maroni is reported to be a potential rival to Mr Bossi for the party leadership.
The Northern League is rooted in small family firms in areas of northern Italy where separatist feelings are strong.
Its supporters are anti-immigration and resent paying taxes to subsidise under-developed parts of southern Italy.
The BBC's Alan Johnston in Rome says the scandal is all the more embarrassing for the party because it has always presented itself as being above the corruption that blights so much of Italian politics.
The story is being given pages of coverage in the media, our correspondent says. "The Corruption of the Incorruptibles" reads one mocking headline.