Turkish press sees trial of coup generals as landmark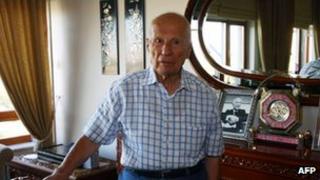 Turkish newspapers across the political spectrum are unanimous in welcoming the trial of two military coup leaders as good for Turkish democracy. One commentator suggests the country has crossed a "psychological barrier".
Generals Kenan Evren and Tahsin Sahinkaya led the coup in September 1980, the third military takeover in modern Turkey's history. The first Turkish officers to go on trial for staging a coup, both are now retired and frail. Their trial opened on Wednesday in Ankara.
In the coup parliament was dissolved, the constitution revoked and political parties were closed down. Some 650,000 people were imprisoned and 50 executed.
Murat Yetkin in Hurriyet Daily News
The hope is that it will bring the end of an era and push Turkey to a higher level of democracy.
Ali Bayramoglu in Yeni Safak
The symbolic meaning of the trial... is great. The time of reckoning is approaching.
Hasan Cemal in Milliyet
For the first time, the law in this country is touching a chief of the general staff [Evren] who conducted a coup and calling him to account for what he did... That is why 4 April 2012 has been written with capital letters in the history of Turkish democracy.
Mehmet Ali Birand in Posta
It is not only Evren and Sahinkaya that are on trial here... The mentality that sees society as an ignorant group of sheep that must be herded is on trial. The trial itself is a success for democracy.
Nabi Yagci in Taraf
Today, the laws that were written by the coup plotters, namely the constitution, are still in force. Piece by piece, Turkey is tearing down the structure that the coup plotters constructed... That is why even though it [the trial] is not enough, we have to support the tearing down of each piece.
Mumtazer Turkone in Zaman
By experiencing it, we are learning how coups can be tried. The only thing we expect is that this court case will become a historic settling of accounts that sentences the pro-coup mentality rather than just 12 September. These are my feelings and thoughts while those who tortured me are on trial after 32 years.
BBC Monitoring selects and translates news from radio, television, press, news agencies and the internet from 150 countries in more than 70 languages. It is based in Caversham, UK, and has several bureaux abroad.