Russian 'militant plots foiled' after suspects killed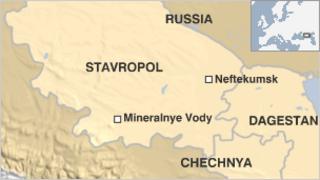 Russian officials say militant attacks planned for the holiday period have been foiled after nine suspects were killed in the south of the country.
Four men travelling in a car were killed after they opened fire in response to demands to stop and show their papers, the Interfax agency said.
Elsewhere, five suspects were killed in a gun battle in Mineralnye Vody.
A spokesman told Ria Novosti the militants had been plotting attacks for the Orthodox Easter and May holidays.
After the first incident, in the Neftekumsk area, the authorities said a large number of weapons and explosive devices were found in the men's Lada car. All four men were local residents, described as in their early twenties.
The shooting in Mineralnye Vody took place some hours after reports that a number of militants had been holed up in a flat in the centre of the city, Interfax reported.
Special forces raided the flat in the early hours of Tuesday morning, killing the five people inside it.
Violence from an Islamist insurgency in the nearby northern Caucasus has regularly affected neighbouring areas, including the Stavropol region.