Leaked priest defamation report 'finds RTE unfair'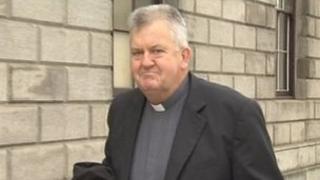 The long-running saga over the Roman Catholic priest, Fr Kevin Reynolds, who was defamed by the RTE Prime Time television programme, took another turn on Tuesday.
The programme, Mission to Prey, falsely accused the priest of raping a minor and fathering her child while he was a missionary in Africa.
Fr Reynolds received an apology and accepted substantial undisclosed damages from the Irish state broadcaster.
Tuesday's Irish Times newspaper said that a report by the Broadcasting Authority of Ireland (BAI) will find that the Prime Time Investigates programme was unfair, and breached the privacy of Fr Kevin Reynolds.
The report on the investigation into the programme, carried out by former BBC Northern Ireland controller Anna Carragher, has not yet been published but the newspaper said it has seen briefing notes used in the preparation of the document.
'Controversy'
RTE said it is disappointed over the leaking which it said has undermined the ongoing regulatory process.
The report has not yet been published as the broadcaster and the programme's production staff have 14 days to respond.
The Irish Times report also said that a fine towards the upper end of the 250,000 euro limit allowed under legislation could be proposed.
RTE has said it will not comment on the Irish Times story, saying it would be inappropriate to do so while the BAI document is still being evaluated.
Last week as part of its response to the ongoing controversy it was announced that Ed Mulhall, the Head of RTE News and Current Affairs, had retired early and that Ken O'Shea, the Editor of Prime Time, had quit to take up a new role with the broadcaster.