Turkey raids in new crackdown on military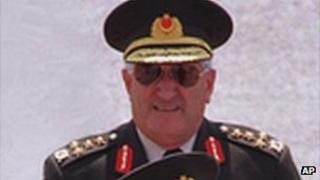 Turkish police have raided the homes of dozens of former military figures, in a fresh crackdown on the armed forces.
An arrest warrant has been issued for Retired Gen Cevik Bir, who played a key role in the fall of Necmettin Erbakan's government in 1997.
All the other military figures whose homes were searched were also in high positions at the time of what became known as the post-modern coup.
Earlier this month, two leaders of the 1980 coup went on trial in Ankara.
Gen Bir was deputy head of Turkey's army chiefs of staff when Mr Erbakan's Islamist Welfare Party was forced from power.
Prime Minister Recep Tayyip Erdogan's ruling AK Party grew out of Welfare, which was banned by Turkey's Constitutional Court in 1998 on charges of undermining the secular political system. Mr Erbakan was barred from politics for five years and served a jail sentence.
Mr Erdogan's government has spearheaded attempts to reduce the influence of the military in Turkish political life. The armed forces staged three coups in 1960, 1971 and 1980.
Last week, two elderly leaders of the 1980 coup were put on trial accused of overthrowing the civilian government. Gen Kenan Evren and Gen Tahsin Sahinkaya were the first Turkish officers to stand trial for staging a coup. Mr Erdogan's party has applied to be a co-plaintiff in the case.
Turkish media say the latest investigation into what was in effect a bloodless coup in 1997 followed hundreds of legal complaints from across the country.