Ukraine jails Tymoshenko ex-minister Ivashchenko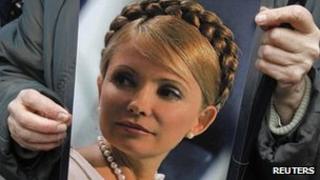 Another minister who served under Ukrainian ex-PM Yulia Tymoshenko has been jailed for abuse of office.
Valery Ivashchenko, who was defence minister in 2009-10, was convicted in connection with a privatisation deal. He denied any wrongdoing.
Tymoshenko was jailed for seven years for abuse of office in September.
Two other ministers in her government, Yuri Lutsenko and Heorhiy Filipchuk, have also been given prison terms for similar offences.
Yuri Lutsenko, who was Ukraine's interior minister, was convicted in February of embezzlement and given four years in jail. Heorhiy Filipchuk, the former natural resources minister, was jailed for three years last week because of a contract with a legal firm over a Black Sea exploration deal.
All four cases have prompted claims from Tymoshenko that she and her allies have been targeted by a campaign led by her political rival, President Viktor Yanukovych.
Shortly after he was found guilty, the former defence minister said he had "every reason to believe that the sentence is unjust", Ukrainian media said, and he denounced the prosecutor general's office as a "criminal organisation". Ukrainian TV said that he was unable to stand up to hear the sentence because of ill health.
He was convicted of signing the illegal sell-off of a state shipbuilding plant in the Crimean port of Feodosiya in 2009, which cost the Ukrainian government an estimated $9m (£5.5m; 7m euros).
Tymoshenko, 51, is currently in jail in the eastern city of Kharkiv and has complained of severe back pain. The Ukrainian authorities have agreed to allow her to be treated in a nearby hospital, although the German government is urging Kiev to let her receive treatment in Germany.
Germany's human rights commissioner Markus Loening, who is due to visit the opposition leader, told reporters on Thursday that the Kiev authorities had given the impression of "not fulfilling their duty" to provide her with proper healthcare.
Mr Loening visited Yuri Lutskenko in Kiev on Wednesday.