Jailed arms dealer Viktor Bout seeks Russia legal help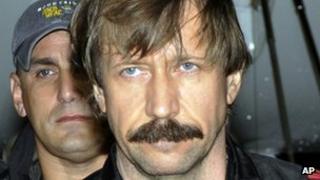 Convicted Russian arms dealer Viktor Bout has urged Moscow to launch a legal case against the US and Thailand on his behalf, following his incarceration.
A US judge jailed him for 25 years for trying to sell heavy arms to Colombian rebels intending to attack US pilots.
Bout, who was arrested in 2008, wants an international court case against the US for staging the trial and Thailand for extraditing him in 2010.
He is suspected of selling arms since the 1990s but insists he is innocent.
The ex-Soviet officer was convicted last year after his arrest in Bangkok, Thailand, following a sting operation in which US informants posed as Colombian rebels.
Prosecutors said Bout was ready to sell up to $20m (£13m) worth of weapons, including surface-to-air missiles to shoot down US helicopters. Bout insisted he was a legitimate businessman.
Russia has criticised the case and suggested that it may seek to have him transferred to Russia to serve his sentence.
Earlier this month, it condemned Bout's prison sentence as "political" and said the case will be a priority in relations with Washington.
'Great hope'
Bout, a Russian citizen, spoke on Thursday to reporters in a phone call from a New York prison.
"I would like to ask the State Duma [parliament] deputies to have Russia file a lawsuit on my behalf against the United States and Thailand at an international court," he said, describing this as his "great hope".
He added that he would "return home very soon" if Russia stands up for him "resolutely and strongly".
"I believe that if Russia gets to the bottom of what happened and makes an announcement that is confident and tough, I can return to Russia very quickly," he said.
When asked about the possibility of being extradited to Russia to serve his sentence, Bout maintained his innocence and said he would reject any deal with US authorities that would require him to plead guilty.
He said the charges against him were "based on rumours and lies" and the proceedings against him had been a "mockery of justice".