Germany train crash: Three die in Offenbach collision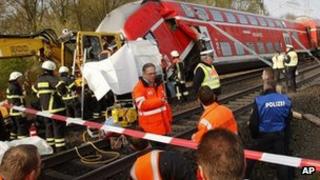 Three people died and another 13 were injured when a German regional train collided with a works engine near the town of Offenbach early on Friday.
The train, travelling from Frankfurt to Hanau, was carrying 35 passengers at the time of the accident.
Police said it had run into a maintenance crane on the track.
The train driver and two members of a construction crew were killed, German media said. Seven people were taken to hospital with serious injuries.
The reason for the accident is not yet clear and German media reports said the passenger train was thought to have been travelling at around 60mph (100km/h) at the time.
The maintenance crane had been performing night work on the track between Muehlheim-Dietesheim and Hanau-Steinheim. The track was closed after the collision.
The Frankfurt-Hanau line is described as a busy commuter route.