Italy corruption: EU funds 'went on villas and weddings'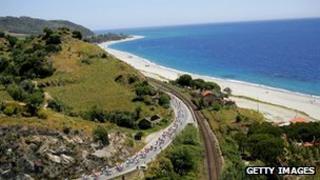 Tax police in Italy have said European Union funds to develop the tourist sector were instead spent on restoring villas and lavish weddings.
Police say they are investigating 63 people, nearly all of them from the town of Vibo Valentia, south of Naples.
Bank accounts, cars and properties worth more than 1m euros ($1.31m; £820,000) were seized.
Those investigated include two officials from Calabria, a stronghold of the 'Ndrangheta crime group.
The officials were said to be in charge of distributing the EU money, which was given to redevelop tourist accommodation.
The police said at least 1.3m euros of EU funds was used in fraudulent activities.
They described the crimes as particularly serious because the region needs new tourist infrastructure, the AFP news agency reports.
Tax police said the money was used to extend and furnish private homes, and to give furniture and televisions to relatives or friends at weddings and other occasions.
The investigation is focusing on crimes including aggravated fraud to obtain public funds, embezzlement of EU funds, and using false documents.
In recent years the Italian authorities have made progress in combating the country's notorious organised gangs, which still wield immense power, especially in the south.