Donegal 'has worst planning record in Irish Republic'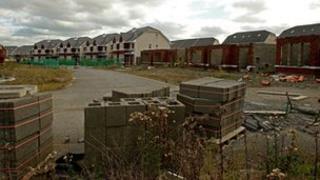 County Donegal has the worst planning record in the Republic of Ireland, according to the national trust for Ireland, An Taisce.
A review carried out by the heritage body has concluded that there was a "systematic failure in Irish planning" between 2000 and 2011.
It said it had left a legacy of unfinished 'ghost estates' and poor quality development.
Donegal County Council came bottom of a league table of 34 local authorities.
An Taisce said Donegal's poor performance was illustrated by the fact that about 50% of all residential planning permissions granted in the county over the last decade were on unzoned land.
'Chaotic sprawl'
The review said this was despite Donegal having "approximately 2,250 hectares of residential zoned land in 2010, sufficient for an additional population of 180,000 people".
Donegal County Council was one of four local authorities to score 'F minus' - the lowest grade in An Taisce's scoring system.
The others included Roscommon, Leitrim and Kerry.
Other border counties also performed poorly; Monaghan scored grade E while Cavan was given a grade F.
An Taisce said the councils which scored poorly generally had the highest levels of unfinished 'ghost estates', the highest rate of population decline, lower residential property prices and significant instances of water pollution.
No local authority scored higher than a C grade, but the four best performing councils were South Dublin, Dun Laoghaire-Rathdown, Galway City and Fingal.
The report said Ireland was "a society still reeling after the sudden bursting of one of the most over-inflated property bubbles in history".
It added that bad planning was "not victimless" and would affect the people living in those areas, and Irish society as a whole, for generations.
"There is no doubt a systematic failure of planning in Ireland helped inflate the property bubble, leaving in its wake a great deal of poor quality development, reckless overzoning, chaotic sprawl, a legacy of 'ghost' development and widespread environment degradation," the review said.