Russia elections: Candidate to continue hunger strike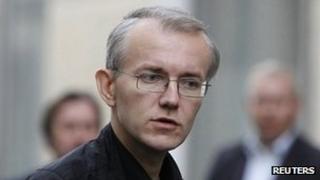 An ailing Russian politician who says he was cheated out of winning a mayoral race has vowed to continue his hunger strike despite talks in Moscow.
Oleg Shein, who stood in Astrakhan, said he had spent the night examining video evidence of ballot-rigging with the head of the electoral commission.
He emerged saying he was hopeful but the commission chief's office later said it would not review the result.
Opposition leaders have backed Mr Shein, who began fasting on 16 March.
He says he has lost 12kg (26lb) and is physically weak.
On Saturday, hundreds of activists held a rally in the Caspian city, some of them flying in from Moscow and other parts of Russia.
The mayoral election was held on 4 March, the same day as the presidential election which saw Vladimir Putin returned for a third term in office.
The Just Russia candidate officially lost to Mikhail Stolyarov, who was backed by Mr Putin's United Russia party.
However, the official results differ greatly from what the exit polls suggested, and from the returns at those polling stations equipped with an electronic ballot-processing system.
Glucose injection
After flying into Moscow, Mr Shein stayed up all night with the head of the Central Electoral Commission, Vladimir Churov, to review the video recordings.
During the viewing, he began to feel unwell and an ambulance was called but he refused to be admitted to hospital, while agreeing to a glucose injection.
According to Mr Shein, they watched video recordings from 42 of the 203 polling stations.
Mr Shein alleges that some election officers counted ballots without even looking at them and, in some cases, they failed to show processed ballots to independent monitors.
"I have a feeling that the Russian justice system may satisfy our request," Mr Shein said after the marathon viewing.
But the central electoral commission said it had found no grounds for reviewing the Astrakhan result.
"Thanks to the full and uninterrupted video recording, everybody can see that the procedural irregularities that took place at some polling stations in the city of Astrakhan could not have affected the outcome of the vote," its press service said.
Mr Shein's hunger strike remains one of the most popular topics of discussion on Russian social media websites.
After the winter rallies in Moscow, opponents of the newly elected president of Russia Vladimir Putin want to concentrate on provincial politics and local elections, analysts say.
Kremlin supporters have accused Oleg Shein of using the situation for nothing more than self-promotion .