Netherlands profile - Leaders
Head of state: King Willem-Alexander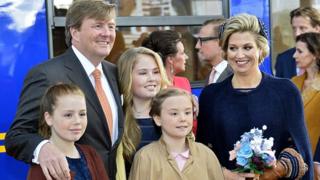 King Willem-Alexander became the first Dutch male monarch in more than a century in April 2013 when his mother Beatrix abdicated to end a 33-year reign.
The generational change in the House of Orange-Nassau gave the Netherlands a moment of celebration and pageantry at a time of recession brought on by the European economic crisis.
The much-loved Beatrix ended her reign in a nationally televised signing ceremony as thousands of orange-clad people cheered outside. Her retirement followed in the tradition of her mother and grandmother.
Willem-Alexander's popular Argentine-born wife became Queen Maxima and their eldest daughter, Catharina-Amalia, became Princess of Orange and first in line to the throne.
The king, a water management specialist, has said he will bring a less formal touch to the monarchy.
Prime minister: Mark Rutte
Mark Rutte and his liberal People's Party for Freedom and Democracy have led a series of coalition governments since 2010, with partners ranging from the centre-left Labour Party to the conservative Christian Democratic Appeal.
He is the first liberal prime minister since 1918, ending nearly a century of domination by Labour and the Christian Democrats.
The March 2017 election saw his party emerge as the largest in parliament, but a relatively strong showing for the populist right-wing Party for Freedom of Geert Wilders has led to an impasse in forming a new government.
None of the mainstream parties with work with Mr Wilders, and differences over issues as diverse as climate change, immigration and medical ethics are hindering the formation of a coalition. Mark Rutte says he wants to form a majority government, but may have to govern as a minority prime minister with the conditional support of other parties.
His administrations have presided over tough spending cuts to comply with EU deficit targets in the wake of the 2008 financial crisis, as well as heated debates on immigration.