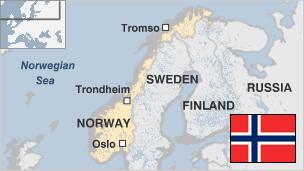 Europe's northernmost country, the Kingdom of Norway is famed for its mountains and spectacular fjord coastline, as well as its history as a seafaring power.
It also enjoys one of the world's highest standards of living, in large part due to the discovery in the late 1960s of offshore oil and gas.
It is a major oil exporter and has resisted the temptation to splurge its windfall, choosing instead to deposit the surplus wealth into its oil fund - now the world's largest sovereign wealth fund.
What to do with the money is a hot political issue: whether to use more of it to improve infrastructure or keep it for a rainy day and future generations.
Norway plays an active international role. It has mediated between Israel and the Palestinians as well as in the Sri Lankan conflict, and has participated in military action in Afghanistan and Libya. Ex-premier Jens Stoltenberg is Nato's secretary general.
It defies a global ban on commercial whaling, along with Japan and Iceland.
Capital: Oslo
Area: 385,207 sq km
Population: 5.4 million
Languages: Norwegian, Sami plus Kven, Romani, Scandoromani
Life expectancy: 81 years (men) 84 years (women)
Crown Prince Harald became king on the death of his father Olav V in 1991. Born in 1937, he fled with his mother and siblings to the United States after the German invasion in 1940, while his father and grandfather, the then King Haakon VII, joined the government in exile in London.
King Harald is a keen sportsman, and represented Norway with distinction as a yachtsman at the Tokyo, Mexico and Munich Olympics. He caused some controversy by marrying a commoner, rather than a royal princess.
The king has clearly defined constitutional duties. Apart from being head of the armed forces and Church of Norway, he chairs the Council of State once a week. He appoints the government according to which party commands the largest number of seats in parliament, or else on the advice of the head of parliament and the prime minister of the day.
King Harald has continued the royal family's tradition of unpretentious public duty, and serves as a symbol of the country's strong sense of national identity.
Prime minister: Jonas Gahr Store
Jonas Gahr Store's centre-left Labour Party won the greatest number of seats in the September 2021 general election, but not enough to form a majority government.
In alliance with the agrarian Centre Party, he leads a minority coalition government, which are common in Nordic countries..
Erna Solberg, who had been prime minister since 2013 resigned after her Conservative party ended up with the second-largest number of seats.
Store, like his political mentors Gro Harlem Brundtland and Jens Stoltenberg, is associated with the business-friendly right wing of the Labour Party.
Public broadcaster NRK operates alongside major privately-owned TV and and radio networks
The media are free and journalists do not face censorship or political pressure, says Reporters Without Borders.
Some key dates in Norway's history:
Circa 800-1050 - Viking Age, in which Scandinavians go on plundering expeditions abroad. Some Norwegians settle at their destinations, including Scotland and Greenland.
Circa 900 - Norway is unified into one kingdom.
1536 - Norway becomes a dependency of Denmark.
1814-1905 - Union with Sweden.
1905 - Independence from Sweden. Prince Carl of Denmark becomes King.
1940 - German forces invade, facing face strong resistance during the occupation lasting until the end of World War Two.
Late 1960s - Oil and gas deposits discovered in the Norwegian sector of the North Sea. By the early 1980s they constitute nearly one-third of Norway's annual export earnings.
1994 - Norwegians for the second time reject membership of the European Union in a referendum, by a margin of about 5%.
2011 - Extreme right-winger Anders Behring Breivik carries out a bomb attack and mass shooting, killing more than 70 people in the worst massacre in Norway's modern history.
Related Internet Links
The BBC is not responsible for the content of external sites.