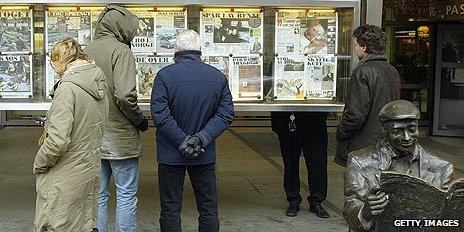 Public broadcaster NRK is the media organisation with the highest reach and trust rating among Norwegians. Its flagship TV and radio channels are market leaders.
From 2020, it will be funded from the state budget through a dedicated NRK tax, rather than from a licence fee payable by the owners of TV receivers.
The commercial sector is dominated by Oslo-based international media group Schibsted, the publisher of leading national dailies Aftenposten and VG, regional papers and online platforms, and by the TV2 Group owned by Copenhagen-based Egmont Fonden, the operator of the largest commercial TV channel.
Norwegians are among the world's most avid newspaper readers. In recent years there has been a significant decline in the readerships of print editions and a rise in the number of subscriptions to online newspapers.
Norway's media are viewed as among the freest in the world. The country was ranked first out of 180 countries in the Reporters Without Borders (RSF) World Press Freedom Index 2019, staying in the top spot for the third year in a row.
According to Statistics Norway, 98 per cent of Norwegians aged 16-79 had access to the internet in 2018, making Norway one of the world's most connected countries. Facebook has by far the biggest share of social media traffic.