Abandoned baby found in Dublin guesthouse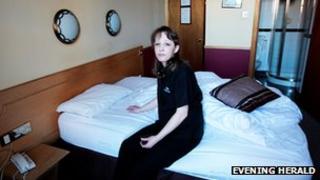 Irish police have confirmed that a baby boy was found abandoned in a guesthouse in the centre of Dublin.
He was left at the Glen Guesthouse in Gardiner Street on Saturday by a woman who flew to Germany later that day.
Gardai were contacted after a shocked member of staff found the child alone in the woman's room.
The baby, believed to be just a few weeks old, was taken into care. The authorities are treating the case as a health rather than a criminal matter.
He is now said to be doing well at the nearby Temple Street Children's Hospital.
Gardai have been in contact with their German counterparts in an attempt to talk to the mother and to pursuade her to return for the child.
Sympathy
The baby was discovered at about 08:00 BST by a 28-year-old cleaner, Zhana Klisuoska.
He had a change of clothes, some nappies and a soda bottle.
The owner of the guesthouse, Martin Tynan, said the woman had checked into her room on Friday night and his staff had not noticed anything unusal.
The receptionist had given the guest a telephone number for the night porter in case she needed anything for the child during the early hours.
Mr Tynan said that, since the discovery, he had asked the authorities several times about the baby's welfare and was assured that he was being well cared for in hospital.
He said he felt sympathy for both the child and his mother.
The guest room where the baby was abandoned will remain out of use until a forensic examination is complete.