Ship 'facing Syrian arms search'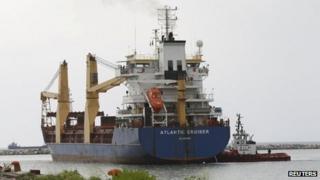 Turkish port authorities are to search a ship following claims that it is carrying arms destined for Syria.
The Atlantic Cruiser, which is owned by a German firm but flies an Antigua and Barbuda flag, has docked at the Turkish port of Iskenderun.
The owners received an email claiming the vessel contains weapons destined for Syria, and that it would be attacked and sunk before arrival.
Both the EU and Turkey have imposed an arms embargo on Syria.
The shipping company, W Bockstiegel, says the craft is chartered to a Ukrainian firm with which it has a longstanding relationship.
After receiving the email, from a group calling itself the Syrian Revolution Naval Forces, the firm ordered the ship not to continue its journey on to Syria.
In a statement , the company says it has no information suggesting that anything other than legitimate cargo is on board the vessel, but that the crew do not have access to the lower layers of cargo.
The cargo was loaded onto the ship in Mumbai. The vessel stopped in Djibouti to offload some cargo, and was due to sail on to Syria, Turkey and Montenegro.
Turkish officials plan to offload all the cargo and inspect it.
Germany's Der Spiegel magazine reported at the weekend that the freight ship contained Iranian arms destined for Syria.
Iran has been accused of supplying its ally Syria with weapons to use against its own people as the government of President Bashar al-Assad cracks down on an uprising.
The United Nations estimates that about 9,000 people have been killed in Syria since pro-democracy protests began in March last year.