Breivik tells trial he is 'normally a very nice person'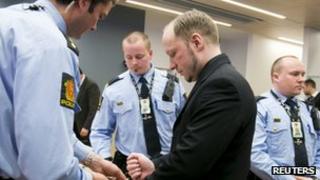 Anders Behring Breivik has said "under normal circumstances I am a very nice person" as his Oslo trial continues.
But Breivik, 33, said he had embarked on a deliberate programme of "dehumanisation" in 2006 to prepare to carry out mass killings.
He admits killing all 77 but denies criminal responsibility, saying he was defending Norway from multiculturalism.
He has chilled onlookers with his matter-of-fact depiction of events on 22 July 2011.
On that day, Breivik car-bombed government buildings in Oslo, killing eight, followed by the massacre of participants in a Labour Party youth camp on the nearby island of Utoeya.
On Friday, he said he had envisaged the most important attack as being the Oslo bombing, but Utoeya "became the most important attack when the government building did not collapse" as planned.
A key aim of the trial is to determine whether Breivik is sane, following conflicting reports into his mental health. Depending on the outcome, if found guilty he faces either prison or committal to a psychiatric institution for as long as he is considered ill.
Breivik himself, who on Friday again avoided the right-wing salute he enacted in the first days of the trial, maintains he is sane but a practitioner of political extremism.
A Norwegian broadcaster is showing the proceedings but not Breivik's testimony, which is being conveyed by reporters in the courtroom.
'Protection mechanism'
Breivik has previously chilled onlookers with his matter-of-fact depiction of events and lack of remorse for his actions.
But at his questioning on Friday, he insisted he was "under normal circumstances a very nice person, very caring about those around me".
He said he "absolutely" understood why his testimony was horrifying to others.
"It's about gruesome, barbaric acts and I cannot even start to conceive what it is like for others," he said. He later added that empathy was not possible, as he would "break down mentally" if he tried to comprehend what he had done.
He said his cold persona was in many ways "a protection mechanism" like that which soldiers had to cultivate, and he had had to carry out a "dehumanisation strategy" to prepare him for his own attacks.
Asked if he could feel sadness, he said "yes", saying the funeral of a friend's brother had been his "saddest day".
"I believe I had fairly normal emotional patterns before 2006 when I embarked on this training."
Before this, he said, he had been "very sociable" but afterwards he had isolated himself from those closest to him by playing computer games, which he has previously described as part of his "training" for the attacks.
Later, he told psychiatrists he had used meditation to dull emotions ranging from "happiness to sorrow, despair, hopelessness, and fear" - and was still using it in prison.
Asked whether he had tried other methods before resorting to violence, he said he had tried "everything" - getting involved with political parties, writing essays and contributing to internet debate.
In additional points, Breivik:
claimed he had not wished to kill "civilians" when he had targeted the government buildings in Oslo, only "government targets", but it was impossible to exclude "civilian" deaths entirely
said that from 2006 he had studied the weaknesses and strengths of organisations from the IRA to al-Qaeda, concluding that the most successful was al-Qaeda, because they "embrace martyrdom" - "and that is key to the successful resistance fight".
said it was impossible for "cultural conservatives" like him to get any of their ideas published in the media or in books, due to an alleged project to protect liberal beliefs
said he believed Japan and South Korea were ideal states, as they had "taken a stand against multiculturalism and Marxism in the 1970s"
In Thursday's testimony, Breivik said he hoped his car bomb in Oslo would kill the whole government, and had also hoped to kill all those on Utoeya - more than 500 in all.
He said he planned to behead former Prime Minister Gro Harlem Brundtland during the rampage, and post a video of it on the internet, but she had left by the time he arrived.
The two main Norwegian newspapers on Friday chose not to put Breivik's testimony from Thursday on the front pages, reports the BBC's Matthew Price in Oslo - an interesting decision as it had been until then by far the most compelling day, and yet also the hardest for people in Norway to hear.
Breivik's evidence is scheduled to last five days, concluding on Monday. The entire proceedings are expected to last 10 weeks.