Netherlands budget cut talks collapse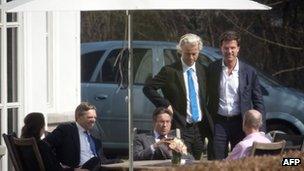 The Netherlands looks set for early elections after budget talks between the main parties collapsed on Saturday.
Leaders have been locked in negotiations for the last seven weeks to try and cut 16bn euros (£13.1bn) from the national budget.
They have been trying to agree on a fiscal austerity package to meet European deficit targets.
Dutch Prime Minister Mark Rutte told reporters that talks had failed and a new election was likely.
The right-wing Freedom Party walked out of the three-party talks with its ally, Mr Rutte's Liberal-Christian Democrat coalition, saying European Union demands were impossible to meet.
The prime minister is now preparing for a crisis meeting with his cabinet on Monday, but said "elections are to be expected".
Although the Netherlands economy has weakened in recent months it remains one of Europe's strongest, with relatively low unemployment and a coveted AAA credit rating.
But these cuts are unavoidable if it is to meet the EU's target of bringing budget deficits below 3% of GDP.
Last month, revised data from the Netherland's Central Planning Bureau forecast that the 2013 public deficit would rise to 4.7% of GDP under current conditions.
The head of the anti-EU Freedom Party, Geert Wilders, said the package of cuts "will damage economic growth and... severely effect the spending power of many people, especially pensioners".
He said Brussels wanted to "take away the economy built up by the elderly", although the Netherlands itself has been one of the strongest proponents of tough fiscal regulations in Europe.
Dutch Finance Minister Jan Kees de Jager left IMF talks in Washington early after negotiations collapsed at home.
In a statement, he said it might still be possible to do a deal with other political parties to get the measures pushed through.
If that fails, an election would be held within the next few months.