Cecil Tomkins killed brother during mother's burial row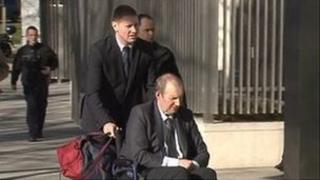 A farmer from County Wicklow has been sentenced to life in prison for the murder of his older brother.
Cecil Tomkins, 63, of New Lodge Nursing Home, Rathfarnham, pleaded not guilty at the Central Criminal Court to murdering Walter Tomkins, 66, at Cronlea, Shillelagh on 1 July 2010.
He told Irish police he killed his brother because he did not follow his mother's burial wishes.
She wanted to be buried in her family's plot and not with her husband.
Mr Tompkins and his brother Walter lived on the family farm at Cronlea, Shillelagh in County Wicklow.
Their other brother Charles married and lived locally but Cecil and Walter were bachelors.
Their father died in 1999 and was buried locally in Aghowle in County Wicklow, but his wife, their mother Isabella, said that when she died she wanted to be buried not with her husband but with her family in Gorey, County Wexford.
The trial was told their mother was buried three days before the shooting.
"There was a row. My mother wanted to be buried in Kilcormac or Gorey but she was buried in Aghowle. I shot Walter because he buried her in Aghowle," said Mr Tomkins.
Walter Tompkins was shot in the chest in the home he shared with Cecil on 1 July.
A shotgun was recovered and live rounds of ammunition were found in a box and on the floor of Cecil's room.
Prosecuting counsel told the jury that two months later, older brother Charles Tomkins was cleaning out Walter's room and found an envelope under the wardrobe with his mother's writing on it.
Inside it said: "The money in this envelope is to pay for the grave in Gorey. I am to be buried in Gorey. Bella."
Charles Tomkins said there was no money in the envelope.
Consultant psychiatrist at the Central Mental Hospital Dr Paul O'Connell told the court it was his opinion Cecil has dementia which "impaired his judgement and that a defence of diminished responsibility is available".
The court also heard that Cecil had told the psychiatrist he remembered his parents having rows and although they lived together, they led separate lives.
He would not disclose the nature of these rows as he said he wanted to keep it private.
Dr O'Connell said he had no psychiatric history, no previous convictions and he told him he would drink the odd time but had never been drunk.
Mr Justice Garrett Sheehan refused bail for an appeal.