France run-off candidates: Nicolas Sarkozy and Francois Hollande
French President Nicolas Sarkozy is heading into a presidential runoff election against Socialist contender and front-runner Francois Hollande, in a vote that could alter Europe's political and economic landscape.
The BBC takes a closer look at the two contenders ahead of the 6 May poll.
NICOLAS SARKOZY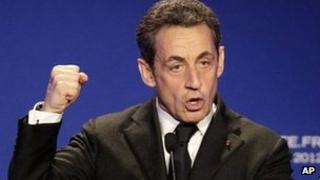 Admirers see Nicolas Sarkozy as dynamic and decisive but he now faces the very real prospect of becoming the first French leader not to be re-elected for a second term since Valery Giscard d'Estaing in 1981.
Runner-up to Socialist candidate Francois Hollande in the first round of the presidential election, he is also well behind him in the opinion polls for the second-round run-off.
Never afraid of controversy, the veteran politician who leads the conservative UMP party has angered human rights activists with his immigration policies and upset traditionalists with his flamboyant private life.
His description of himself as "the captain of a boat in the heart of a storm" seems to sit badly with a surge in jobless claims to their highest level in 12 years. But he was at the forefront of the European response to the global economic crisis in 2008 and helped establish the G20 summits involving the world's biggest economies.
The reforms that have defined his period in office - raising the retirement age from 60 to 62, relaxing the 35-hour working week, overhauling the universities and altering the tax system to encourage overtime and home ownership - have done little to impress voters.
Political fighter
It was as a highly combative interior minister and leader of the ruling UMP that Mr Sarkozy made his name in national politics.
He sharply divided opinion in France, not least by adopting a tough stance on immigration.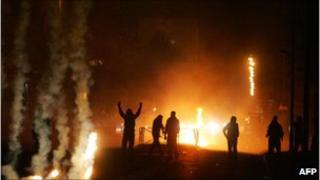 He notoriously talked of hosing down troubled housing estates, describing young delinquents in the Paris suburbs as racaille, or rabble.
That blunt comment - made before the 2005 riots - encouraged some critics to put him in the same category as the then far-right leader, Jean-Marie Le Pen.
As president he pushed through measures to curb illegal immigration - including highly controversial mass deportations of Roma (Gypsies).
At the same time, he advocated positive discrimination to help reduce youth unemployment - a challenge to those wedded to the French idea of equality.
On the international stage Mr Sarkozy is often described as an Atlanticist though he opposed the war in Iraq.
In March 2011, France was first to send warplanes into action against Col Muammar Gaddafi's forces in Libya, spear-heading the foreign intervention that enabled the Libyan rebels to succeed.
He is credited with brokering an end to the August 2008 conflict between Russia and Georgia, and his performance while holding the six-month EU rotating presidency is remembered as assertive.
In response to the global financial crisis of 2008, he vowed to punish speculators and advocated a strong state role in the economy.
Leading the EU response, he helped create the G20 summits of major world economies and developed a close working relationship with Chancellor Angela Merkel of Germany.
According to one of his biographers, Nicolas Domenach, former British Prime Minister Tony Blair has been a major influence on Mr Sarkozy.
"Sarkozy looks at how Tony Blair was able to sell his political ideology," the writer says.
Immigrant roots
Like Mr Blair, Mr Sarkozy is a lawyer by training.
Unlike most of the French ruling class, Mr Sarkozy he did not go to the Ecole Nationale d'Administration but trained as a lawyer.
The son of a Hungarian immigrant and a French mother of Greek-Jewish origin, he was baptised a Roman Catholic and grew up in Paris.
He began his political career as mayor of the affluent Paris suburb of Neuilly from 1983 to 2002.
National attention came in 1993 when he personally intervened to free infants held hostage by a deranged man in a kindergarten, who was later killed by police commandos.
Initially a protege of Jacques Chirac, he became the right-hand man of Prime Minister Edouard Balladur in 1993-95, serving as budget minister.
When he backed Mr Balladur for the presidency in 1995, the decision caused a lasting rift with Mr Chirac, the successful candidate.
Mr Chirac famously chided him in his memoirs for being "irritable, rash, overconfident and allowing for no doubt, least of all regarding himself".
Anita Hausser, another Sarkozy biographer, uses different terms to describe him: "He's hyperactive, he's ambitious, he's a heavy worker, a workaholic, he never rests."
Indeed, the French media have dubbed him the "hyper-president" because of his leadership style.
He is also known as the "bling-bling president" because of his taste for expensive watches and luxury holidays.
Life with Carla
Mr Sarkozy, who is twice divorced, has one son from his second wife, Cecilia Ciganer-Albeniz, and two sons from his first marriage, to Marie-Dominique Culioli.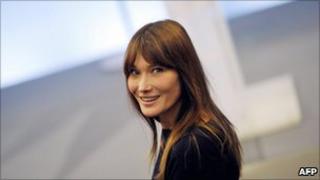 Revealing a personal side in a pre-election interview, Mr Sarkozy said: "Divorce is painful. It is a rupture. And often it is the children who pay the bill."
His romance with his current wife, former super model Carla Bruni, grabbed the headlines when he became president in 2007.
Such publicity was a departure from the French tradition of presidential privacy.
Yet when Mrs Bruni-Sarkozy gave birth to a baby girl, Giulia, last year the pregnancy was kept well away from the media glare, in an apparent return to the traditional, monarchical style of the French presidency.
Despite his achievements in office, Mr Sarkozy has suffered painfully low popularity ratings.
A recent survey by pollster Ifop found 64% of respondents were unhappy with him as president and only 36% satisfied.
The only other incumbent to run for re-election with almost as low a score was Mr Giscard d'Estaing, who lost the 1981 election to Francois Mitterrand with a popularity rating of 40%, Reuters news agency notes.
FRANCOIS HOLLANDE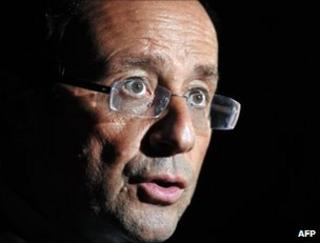 Francois Hollande, the Socialist candidate who won the first round of the French presidential election is an experienced political organiser who has, nonetheless, never held national government office.
He is regarded by many as an affable moderate whose quiet - some might say dull - manner contrasts sharply with the intensity and glamour of conservative President Nicolas Sarkozy whom he will face in the second-round run-off on 6 May.
However, the modest image of this man who until recently preferred to travel to work on a scooter conceals, his supporters would argue, a steely determination to lead his country.
To take the party ticket in 2012, he had to prevail in a gruelling primary election which put both his political and private life to the test.
One of the more dramatic moments of that contest came when fellow contender Segolene Royal - his estranged partner of nearly three decades and mother of his four children - publicly endorsed his bid.
Party career
Mr Hollande was born the son of a doctor on 12 August 1954 in the north-western city of Rouen.
He attended the ENA administration school, where he met Ms Royal, and another elite institution, Sciences Po.
Having been active in student politics, he joined the Socialist party in 1979 and played a junior role as an economic adviser in the Mitterrand presidency.
An MP since 1988, he represents a constituency in the south central region of Correze.
He succeeded Lionel Jospin as party leader in 1997, a post he retained for more than a decade.
In 2008, amid acrimony over the defeat of Ms Royal to Mr Sarkozy at the previous year's presidential election, he stood down.
It later emerged he had been having an affair with journalist Valerie Trierweiler. He has been with Ms Trierweiler, a political reporter with current affairs magazine Paris Match, ever since.
The friction between Mr Hollande and Ms Royal long embarrassed the party but in May 2011 a scandal of a different magnitude threatened to engulf it, when new favourite Dominique Strauss-Kahn was arrested in New York on attempted rape charges, later dropped.
In the ensuing months, many began to see Mr Hollande as the best available bet for 2012.
Statesman?
Some proof of his wider appeal is that he enjoys the unlikely honour of having been praised by former conservative President Jacques Chirac .
Mr Chirac described him in his memoirs as a "true statesman" capable of crossing party lines.
The remark was perceived by some as a slight on Mr Sarkozy, whom Mr Chirac openly mocked in his book.
However, Mr Hollande is generally viewed as a moderate.
"I don't want a hard left," he said during a debate with Martine Aubry, his main rival for the Socialist presidential nomination.
"We're just coming out of five years of a brutal presidency. Should we have a divisive candidacy? I don't want that. We need a solid left." Ms Aubry is being tipped for the role of prime minister if he wins.
He may come across as a moderate but the Socialist candidate has chosen to fight his campaign on some hard-hitting economic policies, with proposals for a 75% top rate of tax and the recruitment of 60,000 new teachers. He has also vowed to renegotiate the EU's fiscal growth pact, signed by President Sarkozy.
The idea of a 75% income tax rate for earnings above 1m euros (£820,000; $1.3m) appeared to take his colleagues by surprise and was widely condemned by his rivals. The head of Mr Sarkozy's UMP party, Jean-Francois Cope, labelled his proposal for thousands of extra teachers as "crazy".
In a recent biography of Mr Hollande, Francois Hollande: The Strength of Mister Nice, political journalist Marie-Eve Malouines paints a picture of a man with a strong ambition for the top job and yet at the same time one who shies away from conflict.
He has declared himself "ready to rule France" and has made it clear that he has no wish to be president "by default".