Spain breaks up gang smuggling Iranians to UK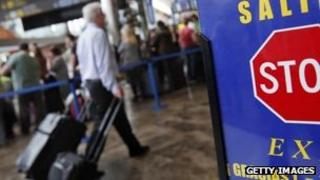 Spanish police have broken up a gang trying to smuggle Iranian migrants into Britain via the Canary Islands, arresting 22 people.
The migrants, charged up to 20,000 euros (£16,300) for the journey, were transported by air or overland by lorry and in luggage compartments of buses.
Once in the Canaries, usually the islands of Tenerife or Fuerteventura, they would fly to Britain, police said.
Fake passports were found at the home of the alleged ringleader, they added.
The Spanish authorities launched their investigation in February, with the arrest of a suspect attempting to board a flight from Tenerife to the UK with forged identification, reports say. The UK Border Agency was also involved in the case.
Thirteen people are said to have been arrested in Tenerife, three in Fuerteventura and six in Madrid.
While many gang members, including the alleged leader, were based in Spain, others were reportedly scattered abroad in Iran, Greece, Switzerland and Germany.
Spanish police said the smugglers had referred to the migrants as cattle or sheep and instructed them how they should act on arrival in Britain. Discounts were given for children while those aged under two were said to have been allowed free passage.