Russia frees 'political prisoner' Sergei Mokhnatkin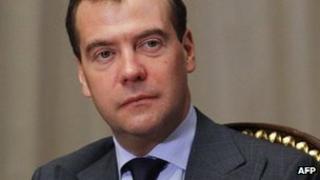 A man branded a political prisoner by Russian opposition politicians has been freed, two days after being pardoned by outgoing President Dmitry Medvedev.
Sergei Mokhnatkin was serving a two-and-a-half-year sentence for hitting a policeman at an opposition rally.
His release was welcomed by opposition activists.
But they have expressed disappointment that none of the other 32 "political prisoners" on a list they submitted to Mr Medvedev has been pardoned.
That list includes former tycoon Mikhail Khodorkovsky, once Russia's richest man, who has been in jail since 2005 and faced a new conviction for embezzlement in 2010.
His supporters say he is the victim of a politically-motivated campaign which seeks to punish him for backing opponents of incoming President Vladimir Putin.
'Pale but cheerful'
Mr Mokhnatkin was one of 13 people pardoned by Mr Medvedev, who will be replaced by Mr Putin on 7 May and appears set to become prime minister himself.
Olga Shorina, press secretary of the Solidarity opposition group, told the BBC that Mr Mokhnatkin had been released at about 21:00 Moscow time (17:30 GMT).
"We've been waiting for him for the whole day. Around 20 activists and journalists came to welcome him. He looks pale but cheerful. He says that he's happy to be at large, and thanks President Medvedev for his pardon," she said.
She said Mr Mokhnatkin said he intended to play an active role in public life.
Mr Mokhnatkin was sent to a penal colony after being convicted of breaking a policeman's nose at an opposition rally in December 2009.
He says he was walking past the rally when he came to the aid of a woman being beaten by police.
"He was not a politician, he was just passing by," his lawyer Dmitry Agranovsky told AFP news agency.
Monday's pardons for Mr Mokhnatkin and the 13 others were "based on the principles of humanity", according to the Kremlin.
Boris Nemtsov, a prominent opposition leader and former deputy prime minister, told Reuters news agency: "The very fact that this has happened is positive, but... one is not a lot; he [Medvedev] should pardon all the people [on the opposition's list]."