Slovenia profile - Leaders
President: Borut Pahor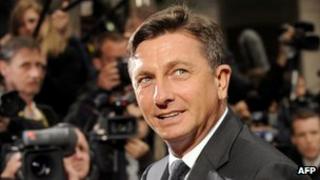 The prime minister of a centre-left government between 2008-12, Borut Pahor was elected president in December 2012, beating incumbent Danilo Turk by a thumping margin of 34% of the vote.
However, the low turnout - only one in three eligible voters made it to the polls - was seen as a sign of widespread disenchantment with Slovenia's political class.
The election took place against a background of popular discontent at the centre-right government's austerity measures, with many Slovenes taking to the streets to call for the resignation of the political elite.
Mr Pahor's conciliatory style and calm demeanour was seen to have gone down better than the abrasive approach of Mr Turk, and he appears to be untouched by the corruption allegations that have dogged other senior Slovene politicians.
He said on being elected that Slovenia needs "trust, respect and tolerance".
The role of president is largely ceremonial, but carries authority in defence and foreign affairs.
Born in 1963, Mr Pahor belonged to the reform wing of the Yugoslav Communist League in Slovenia in the 1980s, before going on to become the leader of the Social Democrats after Slovene independence.
He became prime minister after his party's narrow victory at the September 2008 parliamentary elections. The Social Democrats replaced a centre-right coalition under Janez Jansa.
His government lost a vote of confidence in September 2011 after a referendum rejected major pension reforms.
Prime minister: Miro Cerar
Miro Cerar was appointed prime minister on 25 August 2014, after month-long coalition negotiations in the aftermath of parliamentary elections.
Originally a lawyer and an academic, he acted as a legal advisor to the parliament and expressed opinion on various constitutional matters for years.
His SMC party won 34.5% cent of the vote and secured 36 seats in parliament as the leading faction even though it was established only a month before the elections.
Mr Cerar faced the tough task of putting the eurozone country's finances back in order after the past two governments fell after little more than a year after being hit by corruption trials and political infighting.