Slovakia country profile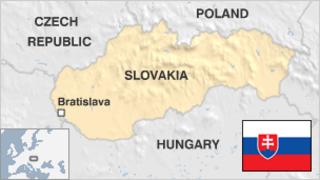 Right at the heart of Europe with a history closely intertwined with its neighbours, Slovakia has managed to preserve its own language and distinct culture.
It was part of Czechoslovakia until the "velvet divorce" in January 1993.
Independent Slovakia went through an initial period of political turbulence, but weathered the 2008 financial crisis to emerge as a prosperous and stable parliamentary democracy. The country joined the European Union in 2004, and the eurozone in 2009, and sent troops on peacekeeping missions to Afghanistan, Iraq, and Kosovo.
Slovakia has a significant Romany population, which suffers disproportionately high levels of poverty and social deprivation.
FACTS
Slovak Republic
Capital: Bratislava
Population 5.5 million

Area 49,033 sq km (18,932 sq miles)

Major language Slovak

Major religion Christianity

Life expectancy 74 years (men), 81 years (women)

Currency euro
Getty Images
LEADERS
President: Zuzana Caputova
Opposition candidate Zuzana Caputova beat the government's Maros Sefcovic in the second round of the March 2019 presidential election, with 58% of the vote.
A lawyer and long-standing anti-corruption campaigner, she is noted for a decade-long fight against a poisonous landfill in her hometown of Pezinok.
Ms Caputova was moved to stand for the presidency during protests over the murder of journalist Jan Kuciak, who was investigating links between politicians and organised crime when he was shot dead along with his fiancée in February 2018.
Prime minister: Igor Matovic
The left-right coalition government led by the Smer-SD party's Peter Pellegrini lost the February 2020 parliamentary elections to the anti-corruption Ordinary People (OLaNO) party led by Igor Matovic, who formed a centre-right coalition the following month.
This was the first time Smer-SD had not finished as the largest party since the 2006 elections, largely because of continuing public anger over the killing of Jan Kuciak and his fiancee.
Mr Matovic set aside his successful media business to enter politics in 2007 on an anti-corruption platform.
MEDIA
TV is the most popular medium. Two Slovak financial groups own many of the top media outlets.
Freedom House says the media are generally free and independent. But the 2018 murder of an investigative journalist highlighted the increasing exposure of reporters to intimidation and abuse, says Reporters Without Borders.
Facebook is the leading social network.
TIMELINE
Some key dates in the history of Slovakia:
1918-1992 - Republic of Czechoslovakia includes Czech, Slovak and Ruthenian lands. The "velvet divorce" results in two independent countries, the Czech Republic and Slovakia.
2004 - Slovakia joins Nato and European Union.
2009 - Slovakia adopts the euro.