Tymoshenko: Europe anger at ex-Ukraine PM's health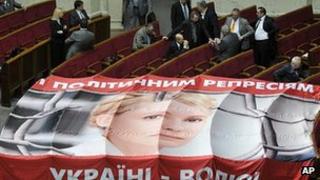 German President Joachim Gauck has turned down a visit to Ukraine amid growing concern at the health of jailed former Ukrainian PM Yulia Tymoshenko.
EU foreign affairs chief Catherine Ashton said she was "deeply preoccupied" after reports that Ms Tymoshenko was assaulted by guards.
The Ukrainian opposition leader alleges that three men punched her in the stomach on her way to hospital.
Russia's foreign ministry has appealed to Kiev to "show a human approach".
A spokesman in Moscow urged the Ukrainian authorities to "fully safeguard" her legal rights.
Ms Tymoshenko, 51, is said to have begun a hunger strike last Friday.
She was jailed for seven years for abuse of office in October after a trial condemned by Western states as politically motivated. She accuses President Viktor Yanukovych, a political rival, of seeking revenge.
During a visit on Thursday to commemorate the 26th anniversary of the Chernobyl nuclear disaster, Mr Yanukovych said that he had ordered the prosecutor general to investigate allegations that she had been beaten in jail.
"I hope that we will have a concrete answer in the near future," he said.
'Football boycott'
In the EU statement, Lady Ashton's spokesperson said there had been confirmation from the Ukrainian ombudsperson's office that the former prime minister had been "subjected to physical violence during the transfer from her cell to a hospital on 20 April".
Ms Tymoshenko's daughter, Eugenia, told BBC News on Wednesday that she and a lawyer had seen her bruises and that her mother was refusing pleas to abandon her hunger strike.
But the head of the prison in the eastern city of Kharkiv, Ivan Pervushkin, has insisted she was not beaten, Interfax news agency reports. Ms Tymoshenko had shown the "bruises she allegedly received from our guards" only to her own party colleagues, he said.
In Germany, some politicians have threatened to boycott games held in Ukraine during the European football championships being hosted jointly by Poland and Ukraine in June, Die Welt reports. But the strongest reaction so far has come from President Gauck.
A 72-year-old former human rights activist, he had been invited to a meeting next month of central European heads of state in the Black Sea resort of Yalta. He made the decision not to go after discussing the issue with Chancellor Angela Merkel, Sueddeutsche Zeitung reported.
Further condemnation came from German Justice Minister Sabine Leutheusser-Schnarrenberger: "The German government demands that Ukraine refrain from any action that harms Ms Tymoshenko's rights.
"She urgently needs medical attention."
The former prime minister has complained of severe back pain for some months.
Doctors from the Charite Clinic in Berlin have already visited her in prison twice and Ukraine's government has asked Germany to conduct a new visit.