Dead babies found in flat in German state of Hesse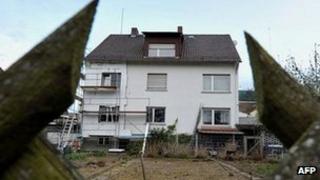 The mother of three dead babies found in the German state of Hesse has denied murdering them, prosecutors say.
The decomposed bodies were found in camping cool boxes left in a cellar and a garage rented by the woman, near the city of Giessen, police said.
The woman told police under questioning that the children were stillborn, according to prosecutors. She has so far not been charged in the case.
She is serving a six-month prison term for fraud, German media report.
Prosecutor Ute Sehlbach-Schellenberg said there was "an initial suspicion of three counts of intentional homicide".
"Because of the state of the corpses we're having great difficulty in establishing anything," she said.
She added that the bodies appeared to have been there for "longer than several months".
The cool boxes and their grisly contents were discovered in the village of Langgoens, apparently when the woman's rented flat was being cleared for sale.
Initially, two of the babies were found in the cellar belonging to the flat in a two-storey building on Tuesday, prompting a police investigation. Tests have shown them to be boys.
The third body was discovered on Wednesday by investigators during a search of a garage rented by the woman.
Investigators have been unable to establish the sex of the third baby, prosecutors said.
The woman is thought to be in her 40s and to have other children, according to media reports.