Former Libyan minister drowned, autopsy results show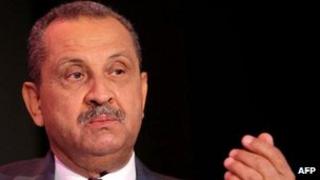 Former Libyan oil minister Shukri Ghanem died by drowning, according to preliminary post-mortem results in Austria.
Mr Ghanem's body was found in the River Danube in Vienna on Sunday.
A police spokesman, Roland Hahslinger, said there appeared to be no outside involvement and there were no indications to suggest suicide.
Shukri Ghanem, 69, defected from Libya during the uprising against Col Muammar Gaddafi last year.
At the time he said the situation had become "unbearable", making his position untenable.
Mr Ghanem served as Libya's prime minister from 2003 to 2006 and then as oil minister until 2011.
He was considered to be one of Gaddafi's inner circle before he defected in June.
Shukri Ghanem "unwell"
In Austria, Roland Hahslinger said there were no signs of violence on Mr Ghanem's body.
The police spokesman suggested the death may have been an accident and he added that on Saturday evening Mr Ghanem told his daughter he was not feeling well, according to AP news agency.
No suicide note has been found and, according to Chief Inspector Hahslinger, there is no evidence that he had been threatened.
Toxicology reports on the body are expected in a few days.
Mr Ghanem had been working as a consultant for a Vienna-based company.
His connection to the city dates back to the time he worked at the Organisation of the Petroleum Exporting Countries (Opec) - a forum he later visited regularly as Libyan oil minister.