Profile: Alexander Dale Oen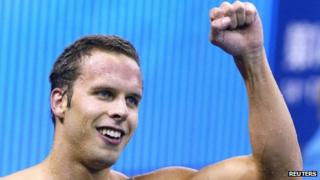 Alexander Dale Oen, the swimming champion who has died at the age of 26, carried Norway's hopes for Olympic gold on his broad shoulders.
He won the 100m breaststroke at the World Championships in Shanghai in 2011, just after the fatal attacks in Norway that left 77 people dead.
On the podium, visibly moved, he dedicated his gold medal to the victims. In the process he became a national hero back home.
His death in May 2012 from a suspected cardiac arrest during training for the London Olympics left Norway in shock.
Tributes poured in from colleagues, sportspeople and politicians. Norway's Prime Minister Jens Stoltenberg described Dale Oen's death as "a great loss for his family and friends, but also for all of Norway".
Symbol of hope
Alexander Dale Oen was born in Bergen, Norway's second largest city, the second son of Mona Lillian Dale and Ingolf Oen.
He started swimming at the age of four, and later wrote on his website that the sport "came very easy and natural for me".
Dale Oen first came to prominence in the 2005 World Championships in Montreal when he made the final of the 100m breaststroke.
Later that year he became the first Norwegian to break through the one-minute barrier for the 100m breaststroke at another event.
But his real breakthrough came when he took first place at the World Championships in Shanghai in 2011.
That race sealed his position as both a top-flight international swimmer and a national treasure in Norway.
He pointed to the Norwegian flag on his swimming cap after the finish, sending a message of solidarity to people back home.
Three days earlier, right-wing extremist Anders Behring Breivik had set off a bomb in Oslo and gone on a shooting spree at an island youth camp, leaving 77 people dead.
After the race, Dale Oen dedicated his victory to the Norwegian people.
"In a time like this for Norway, we need to be together, to be one... it was important for me to symbolise that even though I'm here in China, I'm able to feel the same emotions," he said.
'Ambassador for Norway'
The president of the Norwegian Swimming Federation, Per Rune Eknes, said Dale Oen would long be remembered for that moment.
"He wanted to make some gladness in all this sorrow. I think that's one of the things he is going to be remembered as - he was an ambassador for Norway and he did it the sport way," he told Reuters.
At the time of his death, Dale Oen was at a pre-Olympic training camp in Arizona.
He had spent the day doing some light training and playing a round of golf. In his last message posted on Twitter, he said he was looking forward to going back home: "2 days left of our camp up here in Flagstaff, then it's back to the most beautiful city in Norway.. #Bergen."
Later that day, his teammates became concerned when he failed to respond to their knocking on the bathroom door.
When they went in, they found him slumped on the floor. The team doctor and emergency services tried to resuscitate him, but he was later pronounced dead at the Flagstaff Medical Center.
Officials said he had died of a cardiac arrest.
In a statement at the time, Norwegian swimming coach Petter Loevberg said: "This is an out-of-the-body experience for the whole team over here. Our thoughts primarily go to his family who have lost Alexander way too early."