Romania's PM-designate Victor Ponta unveils new cabinet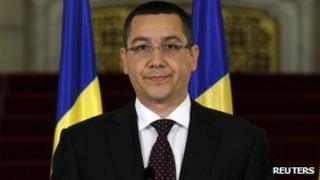 Romania's PM-designate Victor Ponta has unveiled his new government, vowing to fight "injustices" caused by austerity measures of the outgoing cabinet.
The left-wing former opposition leader said portfolios would be evenly split between the two major parties in his Social Liberal Union (USL).
Mr Ponta's cabinet is expected to win parliamentary backing on 7 May.
The previous centre-right coalition was unseated in a no-confidence vote last week - two months after taking office.
The opposition seized on public anger over austerity measures of now ex-PM Mihai Razvan Ungureanu.
The former cabinet had cut salaries and raised sales tax to try to put the economy on a more sound footing.
On Tuesday, Mr Ponta told reporters that "one of the new government's priorities will be to right the social injustices and imbalances".
"This is a special government designed for special times. It has a limited mandate of six months until the parliamentary elections.
"Our political and economic vision will ensure predictability and boost creation of jobs in Romania," Mr Ponta added.
Fresh elections are due to be held in November.