Kosovo court acquits ex-rebel KLA leader and aides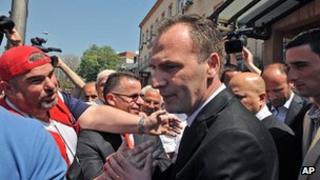 A Kosovo court has acquitted an ethnic Albanian former guerrilla commander and three aides over the torture and killing of Serb detainees in 1999.
Fatmir Limaj - now a politician - and three former aides in the Kosovo Liberation Army (KLA) were prosecuted for abuses at the Klecka prison.
The acquittal came after a key witness killed himself in Germany.
The court in the Kosovo capital Pristina is run by the EU, as part of the Eulex law and order mission.
Eulex had sent former KLA fighter Agim Zogaj to Germany under a witness protection scheme, Reuters news agency reports.
In 2005 a UN tribunal also acquitted Mr Limaj of war crimes charges.
There was an angry reaction from Belgrade on Wednesday. Serbia's war crimes prosecutor said the acquittal was "shameful and unjust".
"The question is whether anybody in Kosovo will ever be convicted for crimes committed against Serbs," the prosecutor's office said.
Mr Limaj said the Pristina judges' verdict showed that the 1999 war was "a just and clean fight". He is a political ally of Kosovo Prime Minister Hashim Thaci.
Most of the victims in the conflict were ethnic Albanians, who form the overwhelming majority in the territory.
Kosovo formally declared independence from Serbia in 2008 - a move that Belgrade refuses to recognise. The international community is split over recognition, leaving Kosovo's status still unresolved.
Under a deal agreed with the European security organisation, the OSCE, ethnic Serbs in Kosovo will be able to vote on Sunday in Serbia's presidential and parliamentary elections.
The UN-led K-For stabilisation force is stepping up security in Kosovo for the election. Ethnic Albanians oppose the Serbs' continuing loyalty to Belgrade.