Denmark profile - Leaders
Queen: Margrethe II
Queen Margrethe became monarch only because a change in the law in 1953 allowed a woman to ascend to the throne. She succeeded on the death of her father, King Frederick IX, in 1972.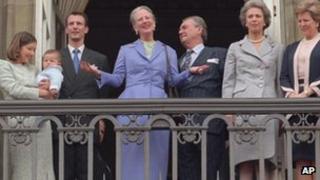 Danish monarchs have a significant formal role in the government of the country. They preside over the Council of State, which signs legislation into law, and consult party leaders on the formation of each new government. In practice, however, the Council always acts on the advice of the elected government, and parliamentary arithmetic decides the composition of the cabinet of ministers.
Queen Margarethe is a skilled artist, clothes designer and translator. She speaks English, French and German, in addition to her native Danish, and her work as an illustrator has been widely published.
Born in 1940, she is married to a former French diplomat, now Prince Henrik, and has two sons. The 40th anniversary of her accession to the throne saw generous public expressions of affection for the highly-popular queen.
Prime Minister: Lars Lokke Rasmussen
Lars Lokke Rasmussen formed a minority government consisting solely of his centre-right Venstre - or Liberal - Party after elections in June 2015, ousting the centre-left government of Helle Thorning Schmidt.
His party won only 34 out of 175 seats in parliament, and even lost votes to come third after Ms Thorning Schmidt's Social Democrats and the right-wing populist Danish People's Party (DPP).
But centre-right bloc parties - campaigning on promises of lower taxes and tighter immigration controls - won more seats overall than the centre-left coalition, and Ms Thorning Schmidt resigned.
Disagreements over the DPP's demand for a referendum on EU membership and higher public spending subsequently prevented the formation of a broader centre-right coalition, and the Liberals decided to go it alone.
His government hopes to pass laws with support from different parties at different times, amid doubts that it will manage to serve out a full term.
Mr Rasmussen served as prime minister in 2009-2011, when he narrowly lost an election to Ms Thorning Schmidt - Denmark's first female head of government.