Denmark profile - Media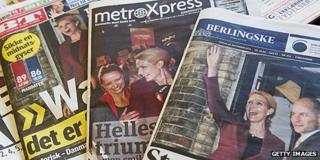 Public broadcaster Danmarks Radio (DR) runs national TV networks and national and regional radio stations. It is funded by a licence fee.
TV2, a government-owned national commercial broadcaster, operates regional outlets and is available by subscription.
Private TV stations broadcast via digital terrestrial, satellite and cable platforms.
Local commercial and community radio stations, as well as national and semi-national commercial networks, compete with DR's networks.
Freedom of expression is provided for in law. Freedom House says the media reflect a range of political opinions and are often critical of the government.
There were nearly 5.6 million internet users by December 2017, 97% of the population (Internetworldstats.com).
The DR and TV2 websites are among the most popular online destinations. Facebook is the leading social network.
The press
Television
Radio
News agency