Denmark profile - Media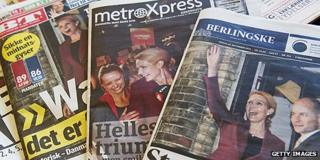 The internet is the media platform most used by Danes. Audiences for linear TV broadcasting and print media are declining.
Public broadcaster DR runs national TV networks and national and regional radio stations.
In 2018, the then centre-right government cut DR's budget by 20% and moved to phase out the licence fee which provides much of the broadcaster's funding.
DR responded by announcing plans to cut or streamline some of its services.
TV 2, a government-owned national commercial broadcaster, operates regional outlets and is available by subscription.
Private TVs broadcast via digital terrestrial, satellite and cable platforms. Swedish, American and German companies are major players in broadcasting.
JP/Politikens Hus and Berlingske Media publish the leading broadsheet and tabloid national newspapers.
Freedom of expression is provided for in law. Freedom House says the media reflect a range of political opinions and are often critical of the government.
There were more than 5.6 million internet users by June 2019, nearly 98% of the population (Internetworldstats.com).
The websites of Ekstrabladet and B.T. newspapers and the DR and TV 2 websites are among the top online news destinations. Facebook is the leading social network.
The press
Television
Radio
News agency