Serbian rivals Tadic and Nikolic battle for votes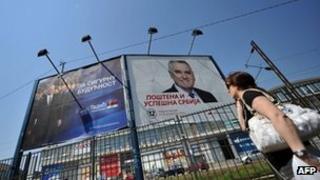 The front-runners in Serbia's elections are battling for votes on the last day of campaigning in a contest that may decide Belgrade's place in Europe.
Both Boris Tadic and Tomislav Nikolic say they are committed to European Union membership for their country, which won EU candidacy status in March.
However, Mr Nikolic, an old ally of the late Slobodan Milosevic, fiercely opposed the move just a few years ago.
Opinion polls suggest he and Mr Tadic are running neck and neck.
Mr Tadic stepped down as president last month, forcing an early election to be held alongside parliamentary and local polls on Sunday.
As president, he oversaw Serbia's EU candidacy negotiations and he argues that success for him and his Democratic Party (DS) is vital for development and stability in Serbia over the next decade.
"We must show that Serbia is a country that wants to join the EU and does not want to quarrel with its neighbours," Mr Tadic told voters.
Mr Nikolic, who once said he would rather see Serbia ally with Russia than join the EU, has recently softened his nationalist rhetoric and chosen to attack the DS on its economic record.
'Economy first'
Serbia is plagued by unemployment of 24% and foreign debt of 24bn euros (£19.5bn; $31.5bn).
"The economy is the most important issue at hand for all the voters, there's no question about that," Srdjan Bogosavljevic, from the Ipsos Strategic Marketing polling agency, told the Associated Press news agency.
"The economic situation is much worse than people have expected it to be."
Aleksandar Ristic, a 30-year-old with a small business in Belgrade, said people were "struggling to survive".
"People are fed up with them all," he added.
Opinion polls suggest Mr Nikolic's Serbian Progressive Party (SNS) may become the biggest in parliament, just ahead of the DS, but some kind of coalition with smaller parties is the likely outcome.
Mr Nikolic has said on the campaign trail that the SNS wants the EU and the jobs and investment it may offer.
But he added that Serbia could not give up its breakaway province of Kosovo in exchange.
"If they say 'You can join the EU but Kosovo isn't yours', then thank you and goodbye, we have our own road," he said.
The SNS leader has lost two previous presidential elections to Mr Tadic, who has been in power since 2004.