Where now for Geert Wilders?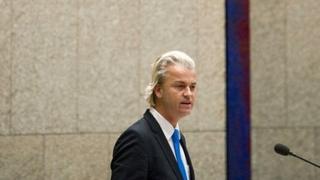 For years, the Freedom Party (PVV) could do little wrong, its populism shaking up Dutch politics and attracting voters to its right-wing policies.
Led by the controversial anti-Islam politician Geert Wilders, the PVV came to prominence with its anti-immigration Eurosceptic rhetoric.
But now its golden era may be over. Falling in the polls, the party's anti-immigration policies are being abandoned by the Dutch, and with the collapse of the coalition government which he propped up, Mr Wilders has been stripped of his powerful kingmaker card. So is this the beginning of the end of the Freedom Party?
For some time, Geert Wilders has been one of the most popular attractions in Dutch politics. He was the headline-grabber, the deal breaker and certified kingmaker of the coalition.
'Lame duck'
Geert Tomlow used to be his right-hand man.
"He threw away everything," he says. "Two weeks ago he was the man everyone watched, people hung on to his every word, he would tweet something and suddenly it would be all over the front pages.
"He will never enjoy that position again. He's old news now, nobody cares what he has to say any more."
Like many others, Geert Tomlow has now lost faith in the Freedom Party and believes Geert Wilders has accidentally thrown away his all-powerful trump card.
"I don't think he thought about the consequences of his actions. He was having a love affair with power but in the end he couldn't deliver and I think he was fed up. He was being forced to make a lot of concessions.
"He acted like a little boy and perhaps on a whim, I think, he decided 'I quit'. Now he's in parliament looking like a lame duck. He's lost a lot of his party's support too, so it will be very difficult for him to stay in Dutch politics."
In the wake of the coalition's collapse, the interim caretaker government quickly cobbled together enough cross-party backing to get their new budget-cutting proposals through parliament.
The new rainbow coalition has shown it can survive without the Freedom Party, leaving Geert Wilders in something of a political no-man's land.
Falling polls
And he appears to be losing support on the streets, too. Not only did the public widely view Geert Wilders's last-minute walkout from the budget negotiations as an irresponsible act, but latest polls suggest the Freedom Party would win only 17 seats in parliament - far fewer than its 2010 election high of 24.
There is much speculation as to why Geert Wilders popularity is waning. Perhaps people are taking heed of caretaker Prime Minister Mark Rutte's appeal for the people to pull together to fight the financial crisis.
Maybe the unexpected fiscal thunderstorm has made the anti-immigration sentiments promoted by the Freedom Party seem less relevant, or perhaps less urgent, at least until the economy is back on track.
For now, people are more preoccupied with whether they can afford to pay the bills than whether their neighbour is wearing a burka.
Geert Wilders used to be a political power broker in the Netherlands, as the governing coalition relied on Mr Wilders's support to get their policies through parliament.
But that support often came with controversial conditions attached. Since Geert Wilders jumped ship, it looks like the coalition is throwing many of the bills he championed overboard with him.
The interior minister has announced they are abandoning plans to ban the full-face Muslim veil, people will be permitted to keep their dual passports, and minarets look like they can stay.
Umar Mirza, a Dutch-Pakistani blogger, thinks Mr Wilders is no longer one of the main players in Dutch politics.
"Muslims know he has had his time," he says. "Wilders came, he saw and he lost. I hope now we can start addressing the real problems and stop blaming Muslims for everything that is wrong with society."
Same beliefs
The Freedom Party may be in decline, but it still commands a respectable amount of support and represents more than one million Dutch voters in parliament.
Some analysts suggest those who have fallen out of love with the party might simply be waiting for a viable alternative to emerge.
Geert Tomlow is hedging his bets with a party led by former Freedom Party member Hero Brinkman, which is quietly preparing to enter the rollercoaster world of Dutch politics.
"The problems have not gone away and there needs to be a party who can represent those people who want something to be done to stop the Netherlands being swamped by immigrants. People want a party to deal with these issues."
Mr Wilders is currently out of the country. Perhaps with one eye on a future outside Dutch politics, he is touring the United States to promote his new anti-Islam book.
When he returns to the Netherlands ahead of elections in September, his Freedom Party may be forced to re-evaluate its position.
Otherwise he may run the risk of being further marginalised by the country's new political reality.