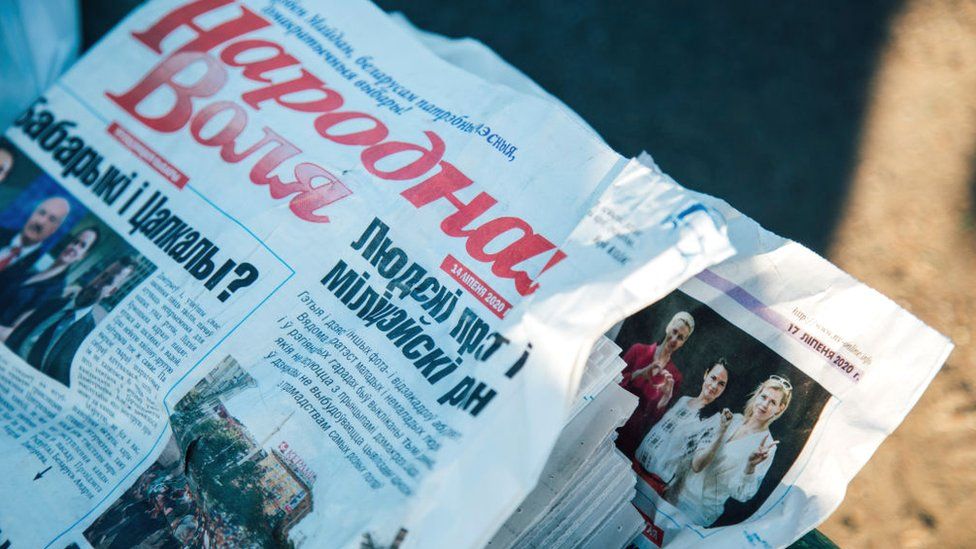 Belarus has one of the most repressive media environments in Europe.
The continuing crackdown on independent media, bloggers and online activists is part of the wider effort to crush the campaign for political change following the disputed 2020 presidential election.
Dozens of journalists have been arrested and multiple media outlets shut down since then, although some continue operations from abroad.
The already vast Russian media influence has only increased since the start of the full-scale war in Ukraine.
Russian TV is widely available and often enjoys higher viewership figures than Belarusian channels.
State TV parrots Russian propaganda narratives about the war, Ukraine and the West, also vilifying the Belarusian opposition.
Online remains the only outpost of free speech but oppressive media regulation - including the designation of critical outlets as "extremist" - makes it difficult and potentially dangerous to access them.
There were 8 million internet users by July 2022, comprising 85% of the population (Internetworldstats.com). Russia's VKontakte is the most popular social network.
Belarusian TV - state-run, operates flagship Belarus 1, entertainment network Belarus 2, culture network Belarus 3, sports channel Belarus 5, satellite station Belarus 24
Nationwide TV (ONT) - joint venture with Russia's Channel One; state holds a majority stake
STV (Stolichnoye Televideniye) - state-run, rebroadcasts Russian REN TV
Belsat - exile TV based in Poland, via satellite and internet