Has feminism arrived in Georgia?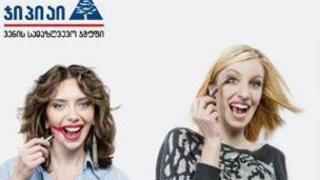 In Russia, the feminist punk band Pussy Riot has provoked the authorities by performing in a Moscow cathedral.
In Ukraine, young feminists have protested topless, to bring attention to women's rights.
Now, an unusually fierce debate about gender roles is also raging elsewhere in the former Soviet Union - in Georgia, a country with a macho reputation where traditional attitudes to women are still common.
A group of glamorous women in skimpy clothing sit in a pink studio, and giggle as they get the answers wrong to some pretty basic questions.
"Does the earth revolve round the moon?" "Yes", they answer.
"Was Salvador Dali an artist, a nudist or a hairstylist?"
"Er, a hairstylist," answer the women.
Meanwhile, the show's actual contestants, rival teams of men - not in skimpy clothing - have to guess which questions the women will get wrong.
The quiz is called Women's Logic, and the aim is for men to work out, well, what "women's" logic is.
Dangerous stereotypes
The show has sparked demonstrations outside the TV station.
Protest leader Ninia Kakabadze says the programme makes women look stupid and reinforces dangerous stereotypes, in a country where women are already often viewed as intellectually inferior.
"The show says that women's logic is different to men's logic. But since when did logic have a gender? Logic is not different for men and women," she says.
"And it perpetuates a harmful cliche: that a beautiful woman who looks after herself and has nice hair, is by definition stupid, that it's impossible to be pretty and smart at the same time."
But Dato Imedashvili, the show's producer, denies that the programme is sexist.
"The main goal of this show is entertainment, that's all. Nothing more, nothing less. So if somebody doesn't like it, they have their remote control, they can just use it," he says.
"This is a game show for men. They are competing with each other," he adds, explaining that the show has been so successful - partly thanks to the protests - that a new series has now been commissioned.
Fierce debate
An advertisement for car insurance has also sparked controversy. It shows a pretty woman with lipstick all over her face - she has just crashed her car, it suggests, because she was using the mirror to put on make-up.
Many female drivers feel insulted, saying it reinforces the Georgian male prejudice that women cannot drive - a particularly galling accusation, they say, when you look at the amount of accidents caused by speeding male drivers.
But Mariam Gagoshashvili, from the Women's Fund in Georgia, a gender equality organisation, welcomes the fierce debate.
She sees it as a sign that feminism is no longer taboo. And says that while sexism in the media may be nothing new, a reaction against it, is.
"We have similar ads and TV shows every month in Georgia, and almost all companies are using very sexist stereotypes to advertise their products."
"But people have to see that women are angry when they are laughed at, mocked and insulted. And they are not going to stand it. Also, the development of internet technology has helped a lot. Social networking sites mobilise people and we can now organise protest actions very quickly."
But traditional attitudes still dominate. And workers on one building site in central Tbilisi were clear about what they thought a woman's role in Georgian society should be.
"In an ideal family, the man should be the head of the family, the breadwinner. And the wife should care for the family. That's how a household works harmoniously," said one man.
That is a view shared by the country's powerful Church. At a Sunday sermon at the main cathedral in Tbilisi at the end of April the Patriarch, the head of the Georgian Orthodox Church, got involved in the debate.
Men are in charge of the family, he said, and women should be waiting at home ready to wash their husbands' feet when they get in from work.
Shifting roles
With approval ratings higher than any politician, what the Patriarch says matters.
But real life is very different. One recent survey showed that it is more common in Georgian families for the woman to earn the main wage than the man - partly because a lot of the traditional so-called "male" jobs in agriculture or industry no longer exist.
According to the Caucasus Research Resource Centres, when asked who should be the main breadwinner in the family, 83% of Georgians said the man.
But when asked who actually does earn the main wage, in 40% of families it was the woman, compared to 36% of families where it was the man.
"Women saved Georgia in the 1990s," says Mariam Gagoshashvili.
When the economy collapsed during the civil wars following independence in 1991, mothers were forced to work to support their families.
There was no work for anyone. So it was women, says Ms Gagoshashvili, already used to domestic work at home, who were prepared to clean offices, stand in the market or look after other peoples' children to feed their own families.
And today many of the more available jobs, in the service sector, are seen as "women's work": shops, restaurants and banks in Georgia are generally staffed by women.
Gender roles are shifting in Georgia and the economic reality has changed. Now perceptions just need to catch up.