Q&A: Sarkozy's and Hollande's plans for France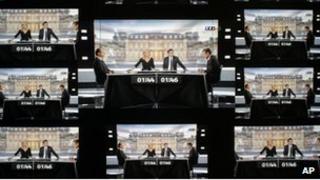 After months of campaigning and a close-fought first round, on 6 May French voters face a straight choice between the centre-right incumbent, Nicolas Sarkozy, and his Socialist rival, Francois Hollande, as their president for the next five years.
What are the candidates' slogans?
Mr Sarkozy, the candidate for the governing Union for a Popular Movement (UMP), argues that France needs a leader who can take tough decisions and protect the French in uncertain times. His campaign slogan is "A strong France".
His Socialist challenger, Mr Hollande, lambasts Mr Sarkozy's economic record and calls for greater fairness. His campaign slogan is "The time for change is now".
What sets them apart on the economy?
The two candidates have different approaches to job creation and they have set different deficit targets.
Mr Hollande has proposed financial help for small and medium-sized businesses and incentives for employers to hire young people while holding on to older workers. He has pledged to introduce a 75% income tax on earners of more than 1m euros per year and to balance the budget by 2017.
Mr Sarkozy wants to reduce labour costs to stop companies from relocating, and he has set out plans for new training schemes for the unemployed, who would lose benefit entitlements if they refuse to take up the training or jobs offered. He has vowed to balance the budget by 2016 and to put a "golden rule" to parliament committing future governments to pursue zero deficit policies.
How do they compare on foreign affairs?
The candidates have both struck a combative tone on Europe.
Mr Hollande wants to renegotiate the fiscal pact signed by 25 of the 27 EU members and to change the European Central Bank's mandate in favour of growth and jobs. Mr Sarkozy has rejected changes to the fiscal pact but agrees that the ECB should to be given a bigger role in boosting growth. He has also threatened to unilaterally reinstate targeted border controls unless the Schengen zone rules on passport-free travel among 25 European nations are amended.
On Afghanistan, Mr Sarkozy has pledged to withdraw French troops by the end of 2013. Mr Hollande wants to bring that date forward to the end of 2012.
What are their most controversial pledges?
Both candidates have been accused of radicalising their rhetoric and their proposals to win over the supporters of far-left or far-right candidates.
Mr Sarkozy has promised to halve the number of migrants entering the country every year because there are "too many foreigners on our territory". Mr Hollande's response: "I consider that legal immigration can be controlled but that you cannot set targets which are quite unattainable."
Mr Hollande has proposed a 75% tax rate on earnings over 1m euros in order to limit "obscene" levels of pay. Mr Sarkozy's response: "You want fewer rich people, I want fewer poor people."
What was their final TV debate pitch?
At the end of the only televised debate between the two candidates, aired on Wednesday, Mr Sarkozy made a direct appeal to those who voted for far-right and centrist candidates in the first round. He said that he had heard the call by supporters of Marine Le Pen for "the nation, borders, authenticity, authority, firmness", and that he shared centrist Francois Bayrou's concern to reduce the deficit. His closing remarks were: "I am passionate about France and I would like to lead you in this difficult world for the next five years."
Mr Hollande said he wanted to make education his "big priority". He also emphasized the need for fairness and bringing people together. "I want the decisions I take to be judged by this yardstick: fair or unfair?" he said. He closed by saying: "I want the French to regain hope and confidence."
BBC Monitoringselects and translates news from radio, television, press, news agencies and the internet from 150 countries in more than 70 languages. It is based in Caversham, UK, and has several bureaux abroad. For more reports from BBC Monitoring, click here