Tymoshenko 'will be treated in Ukraine'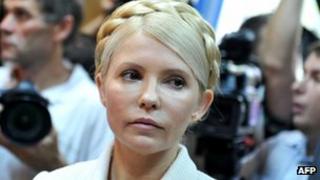 Ukraine's jailed opposition leader Yulia Tymoshenko has agreed to be treated locally for a back problem, according to a visiting German doctor.
She had hoped to go abroad, but Ukraine's chief prosecutor has said prison inmates are not allowed to travel for medical treatment.
Ms Tymoshenko is serving a seven-year sentence for abuse of office.
Several EU leaders have threatened to boycott Euro 2012 football games in Ukraine over how she is being treated.
Leaders in the Netherlands and Germany - two of the tournament favourites - have said they will boycott matches in Ukraine, which is co-hosting the games with Poland, if Ms Tymoshenko's treatment does not improve.
She is suffering from a herniated disc in her back and her supporters have said she is too ill to remain in jail in Ukraine.
'Politically motivated'
The former prime minister was visited on Friday by German physician Dr Karl Max Einhaupl, who told reporters that the authorities had agreed to her request to be treated by a German doctor.
Both the German and Russian governments had offered to treat her in their hospitals, but Ukraine has refused to let her leave the country. Dr Einhaupl said the treatment will start on Tuesday.
Ms Tymoshenko also claims she has been beaten in hospital and recently released pictures showing bruises on her arms and torso.
On Friday, Ukraine's chief prosecutor Victor Pshonka said they had found insufficient evidence to launch a criminal investigation into the allegations.
Ms Tymoshenko was jailed for seven years in October 2011 for abuse of office during her time in power.
Her supporters and EU leaders have said the charge is politically motivated and was orchestrated by her rival, President Viktor Yanukovych.
Her daughter says she has been on hunger strike since 20 April to protest at her treatment.