Why Vladimir Putin needs a golden cockerel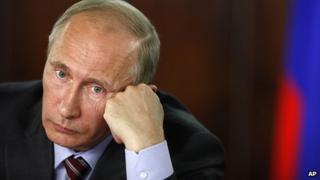 At the Bolshoi Theatre, it's Act One, Scene One of a Rimsky-Korsakov opera.
Up on stage, a 16th Century Russian tsar sings of how tired he is of ruling his kingdom. Enter a magician with an unusual solution.
"Kiriki! Kirikuku!" (that's "cock-a-doodle-doo" to you and me). The wizard has conjured up a golden cockerel to warn the tsar of danger, so that his majesty can feel safe and sound.
Five centuries on, Russia's current ruler could do with one of those.
Vladimir Putin hasn't had an easy few months. He may have won the presidential election, but allegations of vote rigging as well as massive street protests in Moscow have dented his image as father of the nation.
With the political system creaking and economic problems coming, Mr Putin may not feel safe or sound when he moves back into the Kremlin.
"If there is a lack of real reforms, we can face very serious problems," believes Andrei Yakovlev, Vice-Rector of Moscow's Higher School of Economics.
"There is a shortage of qualified and skilled workers, we have an ageing population and there are serious problems with the pension system and with infrastructure," he says.
"What's more, for social and political stability it's necessary to provide quite high economic growth, so government should provide better conditions for doing business. But this is not sustainable without measures to limit corruption."
Last week, Russian TV showed Vladimir Putin heading the Moscow May Day parade and being "mobbed" by adoring fans: a stage-managed show to portray the new president as super popular. But in Moscow he no longer is - and that could prove to be Mr Putin's Achilles heel.
"Putin and his gang, they've lost the urban, educated population," claims Liliya Shevtsova of the Carnegie Moscow Centre.
"In fact, Putin has lost Moscow. You can imagine him sitting behind the Kremlin Walls with a hostile city around. From Russian history we know that if the tsar has lost the support of the Moscow population, he's lost Russia."
It's a contrast to the President Putin of 12 years ago.
"It's much harder now for Putin," says Stanislav Kucher, political commentator of Kommersant FM Radio.
"In his first term everything was on his side. He was younger, he was looked upon as an energetic fellow compared to Boris Yeltsin, oil prices were high. Now there is a problem with the nation's perception of him.
"It's like when you get yourself a brand new car. After three or four years, newer cars start appearing, and you think about changing yours. After 10 years, no matter how good your original car is, you start to hate it. And after 20 years you want to burn it with your own hands."
There is another potential problem for Russia's new president. Instead of "cock-a-doodle-doo", what Mr Putin is hearing rather a lot of right now is hullabaloo: his closest advisers have been squabbling like never before as they battle for influence at the heart of power.
"There are two camps in Putin's entourage," explains Stanislav Kucher.
"There are those who are for reforms, democratically-minded, and there are conservatives. Until recently this division was not that obvious. Now it's evident. Those two groups are fighting for survival. The democrats around Putin believe that if he does not start with reforms, then this country is going to end up like Libya, or another country in the Middle East, with a revolution."
Back at the Bolshoi, the opera is entering its final tragic act. The tsar who believed he was all-powerful is killed - by his own golden cockerel.
"All Russian operas end with a tragic result, there is no happy end in any of them," regrets Liliya Shevtsova.
"So Putin has no exit solution. He cannot leave the Kremlin because he must be accountable for all 12 years in power. But he cannot control society for a longer time. And that means he's trapped."
Which is why Vladimir Putin's third performance as president may prove to be his most challenging yet.