French press rallies behind new President Hollande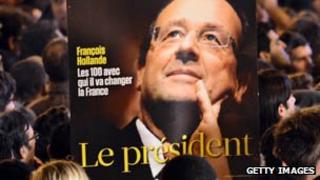 French papers give newly elected President Francois Hollande a warm welcome, ranging from rapturous among left-leaning dailies to respectful on the right. But some warn of the challenges that lie ahead, particularly regarding the economy and Europe.
"Francois II"
Most front pages are dominated by photos of a beaming and waving Francois Hollande (centre-left Liberation, centre-right Le Figaro and others), some show jubilant crowds (regional dailies La Marseillaise, Le Telegramme) and the left-wing l'Humanite divides its front-page between the two.
Headlines range from a neutral "Francois Hollande President" (best-selling daily Ouest France, Catholic daily La Croix) to "Big victory for Hollande" (L'Humanite), "Turn to the left" (regional daily Corse-Matin), "Turning point" (regional daily L'Independent) and "'Giving new hope'" (regional daily La Nouvelle Republique).
Some headlines, such as "Francois II the heir" (regional daily La Voix du Nord), allude to the fact that since 1958 Mr Hollande is only the second left-wing French president after Francois Mitterrand, who served from 1981 to 1995.
Liberation encapsulates this in its single-word headline "NORMAL!", a reference to Mr Hollande self-styling himself as Mr Normal as well as to the fact that having a left-wing president has just become a more "natural" state of affairs in France.
"Welcome, Mr President"
Liberation does not hide its elation. In an editorial by Nicolas Demorand entitled "Finally", the paper says that there is "huge joy" at Mr Hollande's victory. Although "hard work" lies ahead, "today, be happy and live this beautiful month of May to the full", it says.
L'Humanite says that most French people will have "breathed a sigh of relief" when the result was announced, which the paper interprets as punishment for the "ultra-free-market, antisocial and authoritarian" policies pursued by Nicolas Sarkozy.
Meanwhile the centre-right Le Figaro, which had backed Mr Sarkozy, shows magnanimity. "We welcome this election as the expression of the will of the majority. So, welcome, Mr President," the paper says in a front-page editorial by Etienne Mougeotte.
But it goes on to pay tribute to the "major reforms" carried out by Mr Sarkozy and warns that there is "not a minute to lose to reaffirm France's determination to respect the European stability pact" to bring down the deficit.
A front-page "Letter to Mr President" by Francois-Regis Hutin in Ouest France wishes Mr Hollande "good luck". The paper says that "we count on you to arouse the dynamism of all the French... to reconcile the French, to help overcome the split between the included and the excluded, young people and old people, town and country, workers and pensioners, rich people and poor people."
Challenges ahead
A commentary by Jacques Camus in the regional daily La Republique du Centre warns that "the hardest bit is just starting for Francois Hollande".
The paper believes that the new president will have to meet the call for fairness and solidarity expressed by voters while also facing social demands from his "unruly allies". "The time has come for Francois Hollande to mistrust his friends," the paper says.
"Francois Hollande to be tested by power", says the front-page headline of the business daily Les Echos. The paper argues that Mr Hollande faces "12 economic challenges", including growth, competitiveness, debt, unemployment and the negotiation of a new European growth pact.
The regional daily Midi Libre says there will be "no respite" for Mr Hollande. A commentary by Philippe Palat points out that, in order to govern, the new president will need the support of France's lower house of parliament. The National Assembly is currently dominated by the right but legislative elections are due to be held in June.
"President Francois Hollande's long Republican march has only just begun," the paper concludes.
BBC Monitoring selects and translates news from radio, television, press, news agencies and the internet from 150 countries in more than 70 languages. It is based in Caversham, UK, and has several bureaux abroad. For more reports from BBC Monitoring, click here