President: Recep Tayyip Erdogan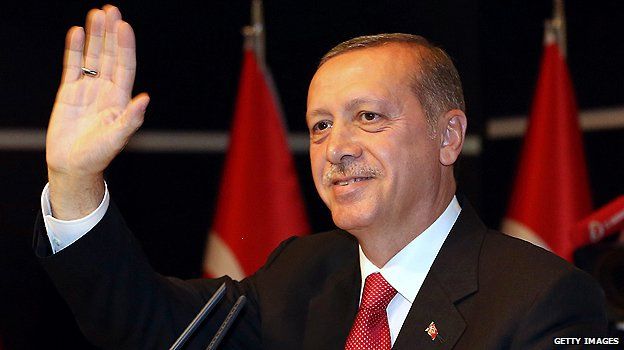 Recep Tayyip Erdogan was sworn in as president in August 2014, cementing his position as Turkey's most powerful leader.
His victory in Turkey's first popular presidential election capped 12 years as prime minister in which the economy tripled in dollar terms, while fuelling fears of growing authoritarianism.
Turkey is a parliamentary republic and the presidency largely ceremonial, by Mr Erdogan won a referendum to increase his powers and abolish the post of prime minister.
Critics warn that this will concentrate too much power in the hands of a leader with autocratic instincts, and lead the country ever further from the secular ideals of the republic's founder Mustafa Kemal Ataturk.
Mr Erdogan became prime minister in 2003. He brought economic and political stability and faced down the country's powerful military establishment, which previously tended to overthrow elected governments it suspected of challenging the secular constitution or national security.
In the summer of 2013, he briefly looked under pressure for the first time as mass anti-government protests erupted in several cities, further inflamed by police violence. And later that year, the government was hit by a police inquiry into alleged corruption among the prime minister's allies.
The corruption probes unleashed a fierce power struggle between Mr Erdogan and his erstwhile ally, the influential US-based Islamic preacher Fethullah Gulen.
Another substantial setback to stability was the resumption of military operations against the Kurdish PKK armed separatist group in mid-2015.
This ended a truce that had been in place since 2013, and which had previously been trumpeted as a landmark success for Mr Erdogan's strategy of steady military pressure paired with negotiations.
These troubles culminated in a failed military coup attempt in 2016, which prompted the president to launch a wave of arrests against his perceived opponents in the army and civil service. He accused Fethullah Gulen of being behind the coup, which Mr Gulen has denied.
Abroad, Turkey has been drawn into Syria's civil war, where it has carried out airstrikes against the Islamic Group as well as Kurdish allies of the United States, while also opposing the government of President Assad. This has caused tensions in relations with Washington, as well as Mr Assad's Russian backers.
Relations with the European Union have also deteriorated, mainly over disputes about Turkey's human rights record, and long-stalled membership talks face formal suspension since the post-coup-attempt crackdown.