Turkey profile - Media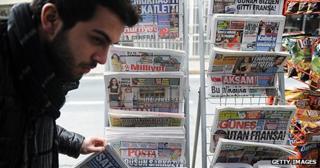 Turkey's failed coup in 2016 had a profound impact on the media. A government clampdown on the plotters and their alleged supporters has extended to media outlets and journalists.
Under a state of emergency introduced after the coup attempt dozens of journalists have been imprisoned without trial, says Reporters Without Borders (RSF) in its 2017 assessment of media freedom.
The government has summarily closed dozens of media outlets and media pluralism is "reduced to a handful of low-circulation newspapers", says RSF.
Television is by far the most influential news medium. Powerful businesses operate press and broadcasting outlets; they include the Dogan group, the leading media conglomerate.
For journalists, the military, Kurds and political Islam are highly-sensitive topics, coverage of which can lead to arrest and prosecution. It is common for radio and TV stations to have their broadcasts suspended for airing sensitive material.
State broadcaster TRT introduced broadcasts in Kurdish, banned for many years, under reforms intended to meet EU criteria on minorities. Some overseas-based Kurdish TVs broadcast via satellite.
Istanbul is the media capital, hosting the main press outlets. Around 46 million Turks were online by late 2015 (Internetworldstats).
Websites are subject to blocking. These have included YouTube, which was banned over videos deemed to be insulting to the founder of modern Turkey, Kemal Ataturk. However, circumvention techniques are widely used.
The press
Television
Radio
Internet