Vatican profile - Media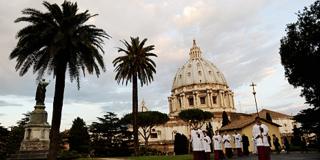 Powerful transmitters beam Vatican Radio - "The Pope's Voice" - to a global audience.
But the station has faced allegations that its transmissions have been putting lives at risk in a Rome suburb by exceeding Italy's electromagnetic radiation standards - claims the Vatican denies.
There were 480 internet users by June 2012, according to Internetworldstats.com. The papacy maintains a Twitter account, @pontifex. The Vatican has a presence on YouTube and Facebook.
The press
Radio
Vatican Radio - inaugurated in 1931, broadcasts in many languages
News agencies