Italian football clubs face match-fixing probe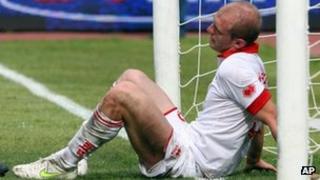 More than 20 Italian football teams have been informed that they are under investigation as part of an inquiry into match-fixing.
The Italian football federation said 61 people, including 52 active players, will also have to answer questions over the allegations.
More than 30 arrests have been made in investigations into match-fixing over the past year in Italy.
Prosecutors are studying suspicious results in 33 matches.
The probe could lead to another damaging trial, similar to the one in 2006 that saw Juventus relegated to Serie B and other major clubs suffer points reductions.
Own-goal claim
The BBC's Alan Johnston in Rome says prosecutors have for many months been looking at allegations that players have collaborated with underworld gambling interests to manipulate results.
He says most of the games involved were in the second division but some in the prestigious top flight - Serie A - have also been tainted by the scandal.
Of the 22 clubs named by the authorities, three clubs belong to Serie A - Atalanta, Novara and Siena. The allegations stem from games played in Serie B in previous seasons.
Andrea Masiello, a former player for the southern club Bari, recently admitted to scoring an own goal in return for tens of thousands of euros. At the time, last season, his side were still in the top division.
Of the 61 people, 52 are active players, two are non-active, four are club officials and three are coaches.
In other high-profile cases, former Italy player Cristiano Doni was banned for three-and-a-half years while Giuseppe Signori was banned for five years for their part in the "Calcioscommesse" match-fixing and betting scandal.