Putin warning at Moscow parade to mark victory in WWII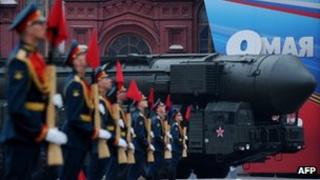 Vladimir Putin, reinstalled as Russian president, has told the annual World War II Victory parade in Red Square that Russia will stand up for itself.
Flanked by Prime Minister Dmitry Medvedev, he addressed a military parade that included nuclear-tipped missiles and 14,000 service personnel.
Having borne the brunt of the Nazi onslaught, he said, Russia had a "moral right" to uphold its positions.
"We will always be true to your feat," he told veterans.
He did not specify which "positions" were in question. Russia and China have recently been at odds with other world powers over how to resolve the crisis in Syria.
Mr Putin was inaugurated on Monday for a third term in the Kremlin after winning an election in March, which was marred by allegations of ballot-rigging.
His predecessor and long-time protege, Mr Medvedev, became prime minister on Tuesday to renewed protests by the Russian opposition.
Russia's most prominent opposition leader, lawyer Alexei Navalny, was detained early on Wednesday, on a charge of disobeying police.
Writing on Twitter from custody, the blogger sent Victory Day congratulations to his fellow Russians and a photo of his grandfather's Soviet medal for valour in World War II.
"So I won't get home for Victory Day," he tweeted. "They're taking my laces and belt."
'Great moral right'
Mr Putin addressed the 67th anniversary parade from a podium beside the Lenin Mausoleum.
"Russia consistently carries out a politics of strengthening security in the world and we have a great moral right to stand up for our positions in a principled and determined way," he said.
"Because it was our country that took on itself the chief onslaught of Nazism and met it with heroic resistance, went through the harshest trials, defined the outcome of the war."
Invaded by Hitler in June 1941, the USSR tied down the bulk of Nazi combat forces for the remainder of the war, finally rolling them back to Berlin after some of the fiercest fighting of the conflict.
To guarantee clear skies for Wednesday's parade, four planes were sent up in the morning to release special cloud-seeding chemicals.
Battle tanks, self-propelled guns and missile launchers trundled across Red Square in a spectacle familiar from previous years, broadcast live by state TV.
There was no fly-past by combat jets this year, with military transport helicopters taking their place.
The Russian government has estimated that 26.6 million Soviet citizens were killed in the war, about 8.7 million of them members of the armed forces.
On Wednesday, surviving veterans donned their uniforms and decorations to mingle with the public in Moscow and capitals of other ex-Soviet states including Tbilisi and Riga.
Addressing veterans in Kiev, Ukrainian President Viktor Yanukovych warned that fascism had been fuelled by a global economic depression.
"Today we also see worrying trends," he said.
"Economic problems are becoming ever more topical; there is competition for resources and a redistribution of areas of influence; religious and ethnic extremism are escalating. Populists of all sorts are striving for power at any cost, challenging the peace and stability of millions of people."