Mayoral candidate 'kills himself' in Italian city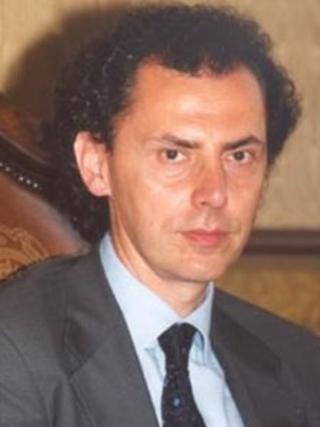 A prominent councillor and former mayoral candidate has been found dead in the Italian city of Bologna, after apparently throwing himself off a council building balcony.
Maurizio Cevenini, 58, had withdrawn from a bid to become the northern city's mayor after an illness in 2010.
His death, though not apparently related to the financial crisis, comes after a spate of suicides in the area.
Local media report that three men have killed themselves over recent days.
According to local news sources, a 55-year-old man from the Sicilian city of Palermo committed suicide in the town on Monday night, hanging himself in the room of the dormitory where he was staying.
A 48-year-old local business man who was reported to be in debt was found dead on Monday on the outskirts of the town and, in the nearby town of Vicenza, an estate agent also in financial difficulty was found dead in a park having hanged himself, according to Il Secolo XIX newspaper.
'White widows'
Known for his passion for football and support for the local team, Mr Cevenini, of the left-leaning Democratic Party, had been dubbed the "Stadium Mayor" by the city.
On Friday, a group of widows whose husbands had committed suicide after struggling in the downturn took part in a march through the city.
Dubbed "white widows" by the Italian media they walked from the hospital where a local craftsman, Giuseppe Campaniello, 58, died in late March after setting himself on fire in front of the local tax court.
He killed himself after his appeal against a demand for thousands of euros in allegedly unpaid taxes was rejected.
According to Italian statistics office, Istat, one third of the country's suicides have occurred in the north of the country, where they rose by 16% in 2010.
A Veneto-based small business association, CGIA-Mestre says that 32 businessmen have killed themselves since the beginning of the year.
Health experts have said that the financial crisis has almost certainly led to an increase in suicides across Europe, with significant increases in the number of suicides among people of working age.