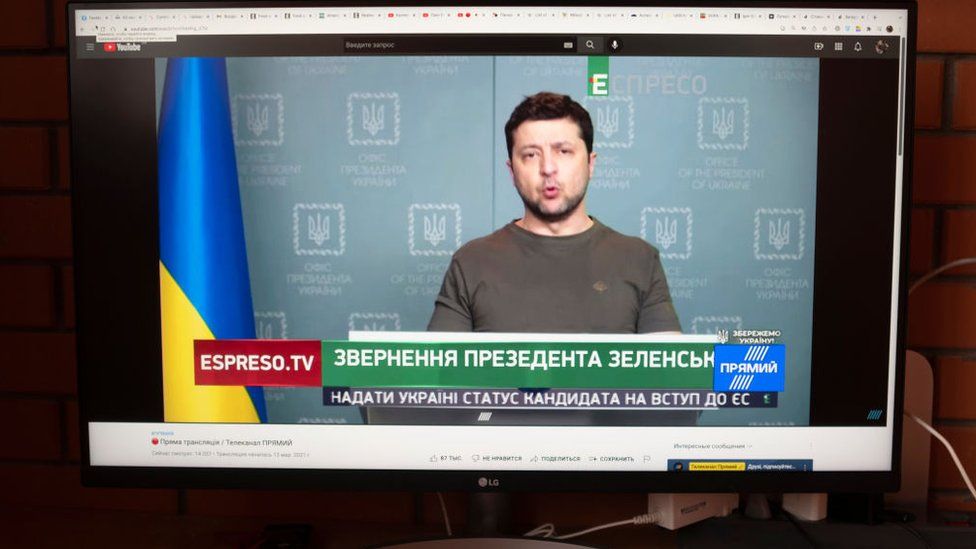 Russia's invasion has left a major footprint on Ukraine's diverse media scene.
The leading outlets, which used to present a diversity of views, adopted a unanimously defiant and patriotic approach to their war reporting.
The top TV channels - including the public broadcaster and several major commercial stations - launched a pooled round-the-clock news service, which sought to foster national unity and rally Ukrainians around the war effort.
Ukrainians have changed their media consumption since the start of the full-scale war, with social media replacing TV as a top news source for Ukrainians, new TV channels continuing to launch despite the conflict, and the complete loss of popularity of Russian outlets.
In the year before the war, the government took further measures to curb pro-Russian narratives, including the closing of three news channels linked to a key pro-Moscow figure.
Annexed Crimea and rebel-held territories in Donbas are under near-total Russian media influence.
In peacetime, Ukraine generally enjoyed a much freer media environment than its closest post-Soviet neighbours but challenges were abundant - from disinformation on social media to lack of accountability for violence against journalists.
The most popular TV channels were under the control of tycoons, while independent media generally relied on grants and donations.
There were 41 million internet users by July 2022, 94% of the population (Internetworldstats.com).