Russia President Putin will miss G8 Camp David summit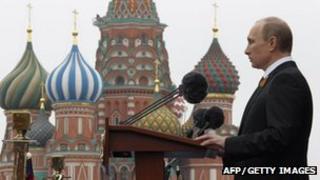 Russian President Vladimir Putin has told US President Barack Obama that he will not attend the G8 summit in the US later this month.
Mr Putin, who was inaugurated as President this week after an absence of four years, told US officials he was busy finalising his cabinet.
He will send the outgoing president, Dmitry Medvedev, who replaces him as prime minister, instead.
The two presidents will now hold talks at the G20 meeting in Mexico in June.
Earlier this week, Washington criticised the Russian police response to anti-Putin rallies in Moscow.
A State Department spokesman said the US was "disturbed" by the "mistreatment" of peaceful protesters.
Organisers said 20,000 people took part in a protest on Sunday against Mr Putin's inauguration, though police put the figure at 8,000.
'Reset of relations'
In a statement, the White House said President Putin "expressed his regret" to President Obama by phone.
The US and Russian leaders will meet during the G20 summit in Mexico in June.
"The two presidents reiterated their interest in the sustained high-level dialogue that has characterized the reset of relations and the substantial progress of the last three years," the statement said.
The US is hosting the G8 summit of seven of the world's most industrialised nations, and Russia, at Camp David on 18-19 May.
It was widely expected that President Putin would use the event to mark his return to the world stage, says the BBC's Daniel Sandford, in Moscow.
It is not clear whether his decision not to attend is a deliberate snub to the US, following criticism of the Russian election process.
It also highlights growing tensions between the two nations over the US missile defence plans in eastern Europe, our correspondent adds.